Club Licensing Program
---
The Canada Soccer Club Licensing Program is designed to guide member organizations throughout the country toward best principles for organizational development both on and off the field. Canada Soccer has developed the Club Licensing Program to vertically align (from FIFA through the PTSOs) and integrate best principles from several sources to create a standard that is both high quality and recognizes the unique Canadian soccer landscape. Saskatchewan Soccer is proud to partner with Canada Soccer to deliver the Club Licensing Program within Saskatchewan.
The Canada Soccer Club Licensing Program has become mandatory in 2023, with all Member Organizations being expected to achieve a minimum of Quality Soccer Provider status in 2024. Additionally, SSA has mandated that all youth Member Organizations must have either achieved a licensing standard or be actively working towards their desired level in 2023 to be eligible for MAP funding. The Club Licensing Program takes a principles-based approach. Principles provide direction but are not prescriptive, allowing organizations to develop and select methods by which they will operate based on their available resources and unique situation and context.
Club Licensing Program Licences & Criteria
Within the Club Licensing Program there are four classifications that a Member Organization (MO) can target based on their vision and desire to develop their organization.
Canada Soccer is responsible for the oversight of the National Youth Club Licence, while Saskatchewan Soccer is responsible for the oversight of the Quality Soccer Provider, MA Level 1 and MA Level 2 licences within the Club Licensing Program.
Club Licensing Application Process
(See table below for updated timelines)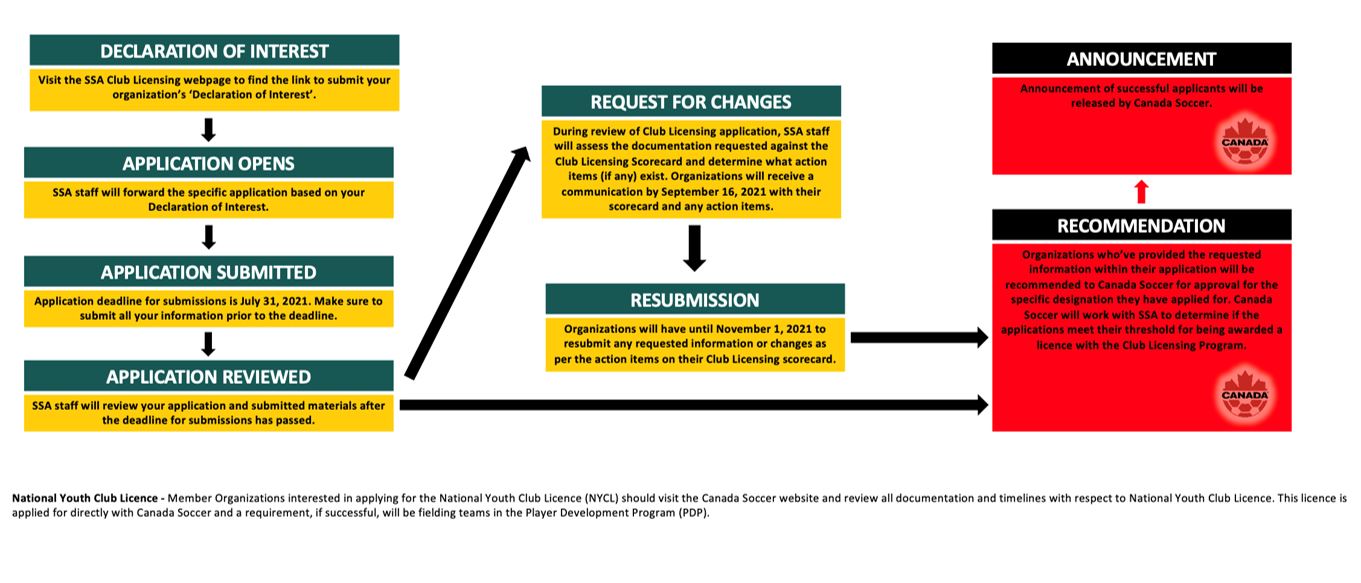 Club Licensing Competition Designations
The following are the competition designations and the licence requirements to participate in those levels, as of 2022 Outdoor.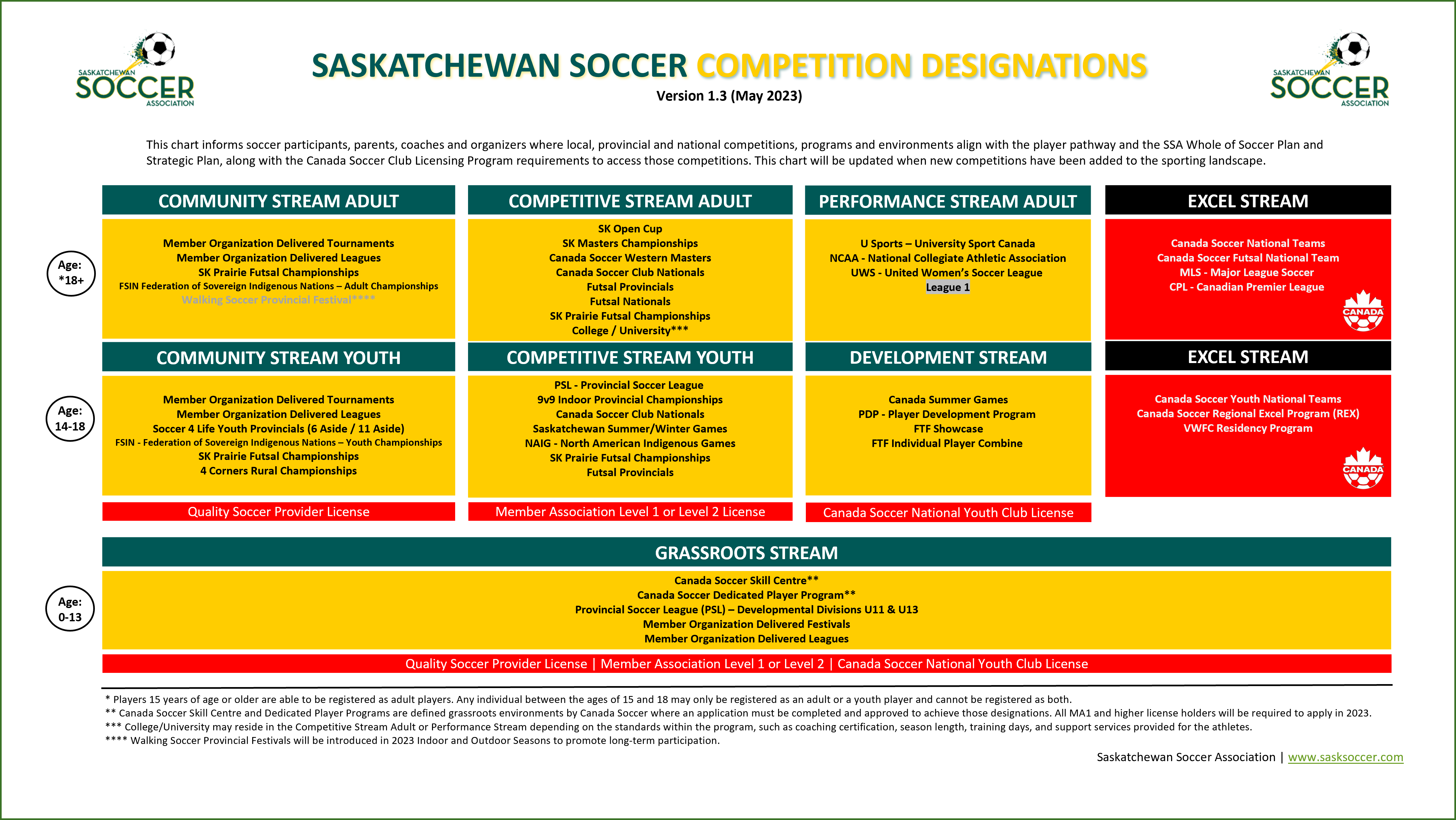 Annual Timelines for Implementation within Saskatchewan
| | |
| --- | --- |
| Jan 1 | Declaration of Interest form open |
| May 15 | QSP, MA Level 1, MA Level 2 applications closes |
| August 31 | Deadline to declare interest in applying for National Youth Club License |
| September 30 | QSP, MA Level 1, MA Level 2 application deadline. All information must be submitted by this time. |
| November 15 | Communication requesting any additional information sent to MOs. |
| January 15 | Organizations will have until January 15 to resubmit any requested information or changes. |
| January 31 | Communication regarding applications sent to MOs and recommendations provided to Canada Soccer. |
The Benefits of Becoming Licensed
Benefits for participation in this program can be tied into 4 categories: Reward, Recognition, Differentiation and Access to Competition.
| | |
| --- | --- |
| Reward | MOs who achieve any of the Club Licensing licences will receive additional consideration through the allocation of MAP Grant funding. MOs who achieve licencing will also receive a year's subscription to Academy Soccer Coach session planning and organization software. |
| Recognition | All MOs who achieve a Club Licensing licence will be provided with marketing materials stating their level of achievement and will receive recognition on Saskatchewan Soccer's and Canada Soccer's websites. |
| Differentiation | As soccer continues to evolve, being part of the Club Licensing Program will allow MOs to differentiate themselves by being recognized for achieving standards of best practice compared to other sports and other soccer organizations. |
| Access to Competition | As part of the Stream Based Competition Designation chart, only MOs who achieve MA Youth Level 1, MA Youth Level 2, or National Youth Club Licence will be able to operate in the Competitive Youth Stream. Additionally, only organizations who achieve National Youth Club Licence will be able to participate in the Player Development Program which is a Canada-wide standards-based league with five regional divisions. |
Resources To Help You Achieve Your Licence
SSA and Canada Soccer are proud to support Member Organizations with information, education, and resources to support them in achieving their desired levels of the Club Licensing Program. Support manuals have been developed for the QSP, MA Level 1, and MA Level 2 levels which detail the available templates, education, and resources for the licensing criteria. Support guides, templates, and information sheets are located on the
Member Organization Resources webpage
and the
Canada Soccer website
.
Respect Group Links
Staff Contact Information
Ashlyn Therens
Coordinator, Club Licensing
(306) 510-2481