Female Development Network
---
Saskatchewan Soccer works to ensure that all participants are welcome and supported in the game through its Everyone's Game initiatives. The Saskatchewan Soccer Female Development Network (FDN) provides supported opportunities for individuals to share experiences, seek guidance and knowledge from experts, and to find peer support in pursuit of the program's mission to increase opportunities for women in soccer through empowerment, inclusion, and education.

The program operates annually from October to April and provides a welcoming and supportive environment where participants strive to grow towards their goals, celebrate achievements, and build their potential. (NOTE: FDN is full for 2023-24. The next cohort will open applications in June 2024)
The FDN hosts an open call for females 18 and over that are players, coaches, referees, board members, and organizers within the game in Saskatchewan each spring.
Each participant is eligible to receive:
A 50% grant on next SSA-delivered coaching course or a $750 grant towards a Canada Soccer course in 2023 or 2024
A $200 honorarium for participating upon the completion of the program
Saskatoon-based coaches will be given the opportunity to participate in the Saskatchewan EXCEL Program on a weekly or bi-weekly basis. An honorarium for those participating in the Saskatchewan EXCEL Girls Program
Participant welcome package
Opportunities to connect with Female Leaders within Canada and grow their own Network.
Tailored tasks designed to support their future aspirations
2023-24 Female Development Network Workshop Schedule
Full attendance is expected at all workshops as well as completion of task(s) that will be provided to participants.
| | | |
| --- | --- | --- |
| Date | Event | Description |
| October 22, 2023 | Online Education Session | Teams Meeting: Group welcome, year outline, goal setting |
| November 4-5, 2023 | In Person: Saskatoon | Gender Equity Lens Workshop, Welcome Social/Networking |
| January | TBA | TBD |
| February | TBA | TBD |
| March | Awards Night: Regina | Celebrating SSA Member achievements |
2023-24 Female Development Network Participants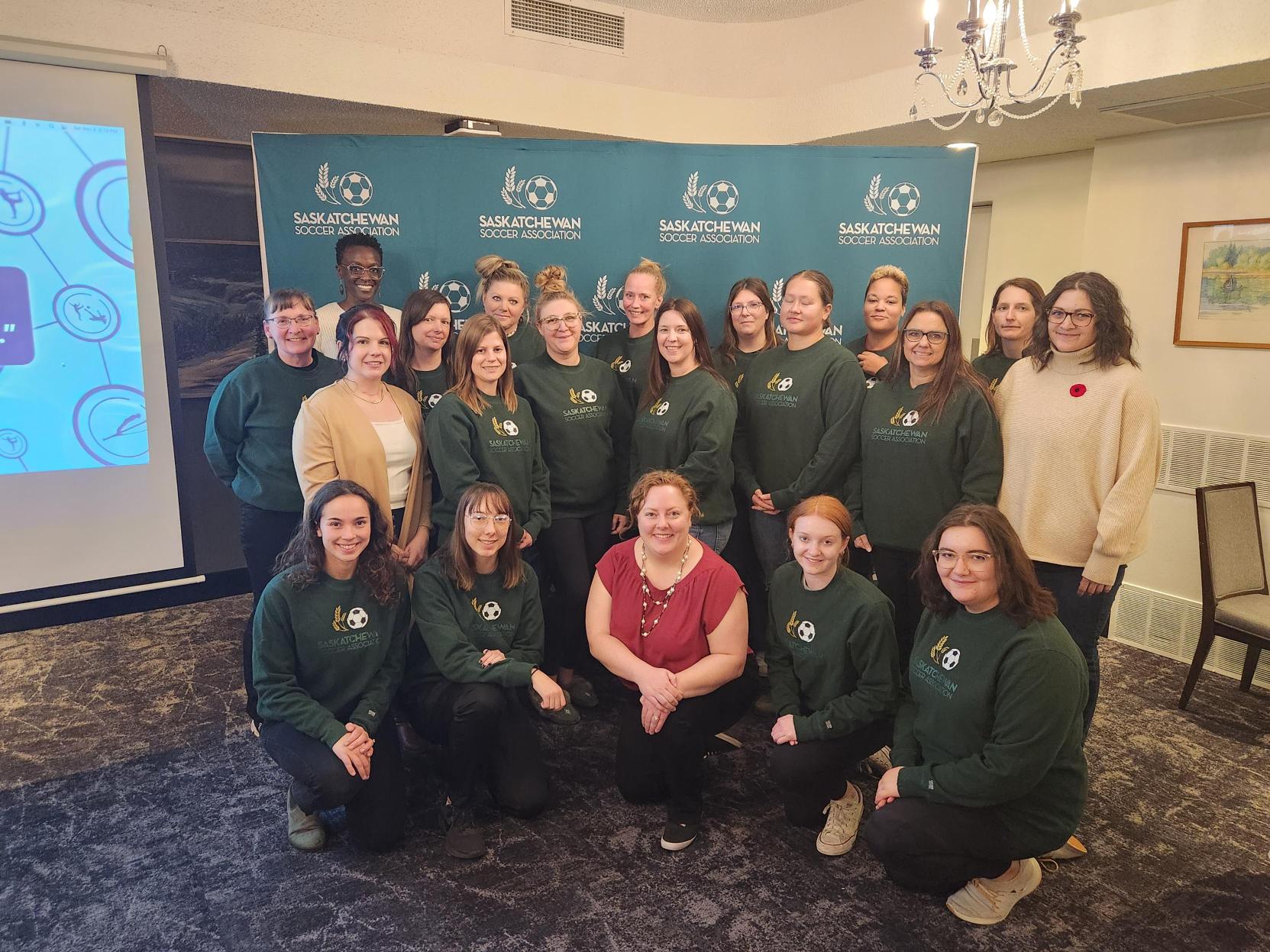 | | | |
| --- | --- | --- |
| Erica Christensen | Phantom Lake Soccer Club | Technical Staff |
| Allison Berge | Saskatoon Youth Soccer - Hollandia Soccer Club | Coach |
| Tanya Giesbrecht | Saskatoon Youth Soccer - Hollandia Soccer Club | Technical Staff |
| Katrina Lewis | Valley Soccer Association | Administrator Staff |
| Schenley Baker | Valley Soccer Association | Club Executive |
| Kacey Payne | JJ Soccer | Coach |
| Darsana Kahpeaysewat | Meadow Lake and District Soccer Association | Coach |
| Jaime Drader | Valley Soccer Association/Valley United Soccer Club | Club Executive |
| Adrianna Graham | Eatonia Soccer Club | Coach |
| Chelsea Bull | Battlefords Youth Soccer inc | Coach |
| Krissy Frei | Regina Soccer Referee Association | Referee |
| Amanda Probe | Saskatoon Youth Soccer Inc. | Executive Director |
| Sabrina Ramirez | Queen City Soccer | Coach |
| Kat Huxley | Battleford Youth Soccer/Battleford United FC | Club Executive/Coach |
| Rachel Young | Nipawin Youth Soccer | Club Executive/Coach |
| Michele Mason | Saskatoon Youth Soccer - SUSC | Coach |
| Nicola Pollock | Regina Soccer Referee Association | Referee |
| Nadia Kuntz | SSA - SERP | Referee |
| Caydence Holowaty | Saskatoon Youth Soccer - Hollandia | Coach |
| Dannielle Donnelly | MJSA | Club Executive |
| Adele Bandet | Saskatoon United Soccer Club | Coach |
| Ileana Dawoud | Forza Soccer Academy | Club Executive |