Multi-Sport Games
---
This section includes a listing of the multi-sport games that Saskatchewan soccer players, coaches, officials and other support staff are eligible to attend at the provincial and national levels.

Multi-Sport Games provide a unique opportunity for those involved to either represent their Sask Sport District or Province in competition. They usually occur every 2-4 years depending on the competition and provide a development opportunity for those involved. The different sections below will highlight some of the upcoming multi-sport games that have been confirmed.
---


2022 Saskatchewan Winter Games (Regina, Saskatchewan) FUTSAL (February 23rd to 26th)
For the first time in Saskatchewan Games history, Futsal will be included in the upcoming 2022 Saskatchewan Winter Games from February 20-26, 2022! In addition 2022 will mark the 50th anniversary of the Saskatchewan Games! This will be an event to remember, with more than 1,800 athletes, coaches and officials gathering in Regina to share in the thrill of competition and camaraderie on the provincial stage. Planning for the Games is underway. Stay tuned for more information.
Players
Sask Soccer is looking to field U15 (Players born in 2007/08) female and male teams in each of the 9
Sask Sport Districts
. Saskatchewan Winter Games team selections are open to all participants and operated in partnership with the Sask Sport Districts.
ID Camp Registration and Information
To register for an ID Camp, please click on the registration link for your gender and area list below.
Team Lakeland - Prince Albert, Nipawin, Melfort
Team Parkland Valley - Yorkton, Melville, Esterhazy
Team Regina - City of Regina
Team Rivers West - North Battleford, Lloydminster, Rosetown, Biggar, Kindersley, Meadow Lake
Team Saskatoon - City of Saskatoon
Team South East - Weyburn, Estevan, Whitewood, Broadview
Team South West - Moose Jaw, Swift Current, Assiniboia, Maple Creek
Team North - LaRonge, Cumberland House, Pelican Narrows, LaLoche, Stony Rapids
Team Prairie Central - Warman, Humboldt, Kelvington, Fort Qu'Appelle, Outlook
2022 Sask Winter Games District Team Staffs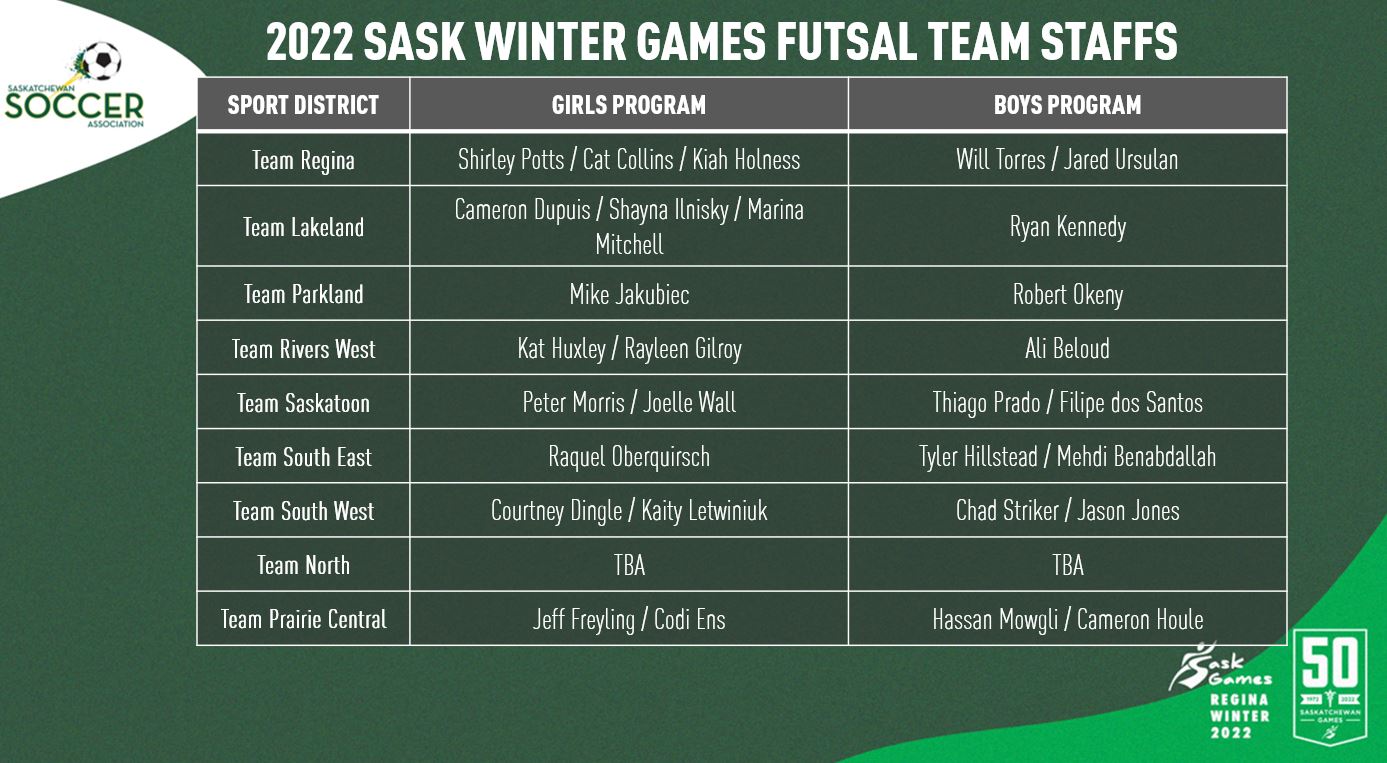 2022 Canada Summer Games (Niagara, Ontario)
2022 Canada Summer Games Coaching Information


North American Indigenous Games (NAIG) (Halifax, Nova Scotia)
The date of the games are not yet determined.
---

2021 Saskatchewan Summer Games (Lloydminster, Saskatchewan)
The next edition of the Summer games will take place in 2024.