Member Assistance Program (MAP)
---
Saskatchewan Soccer is pleased to distribute over $230,000 in funding from Saskatchewan Lotteries Trust Fund for Sport, Culture and Recreation's Membership Assistance Program to Member Organizations to allocate funds directly to members, to support Member Organizations to align their efforts with SSA, increase the number of participants, expand sport and organizational development opportunities, strengthen local capacity to grow the game, and assist with promotion of soccer in Saskatchewan.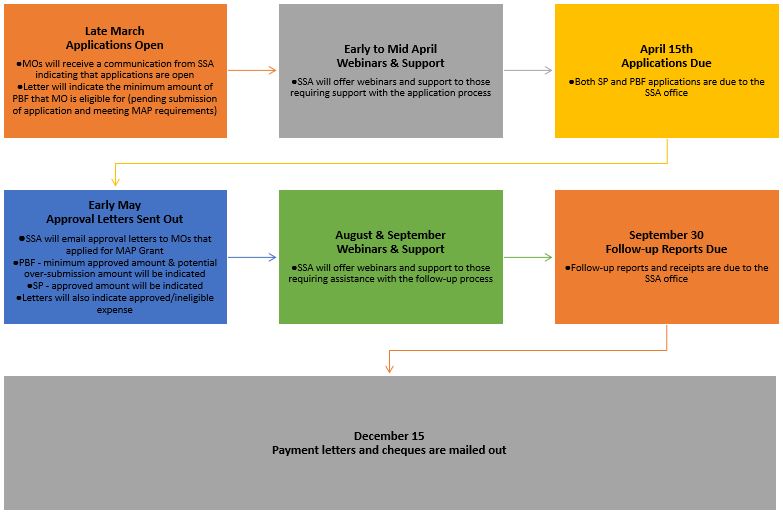 Grant Application
The MAP Grant application deadline is
May 1st at midnight
. Deadline has been changed from April 15th to May 1st in response to COVID-19.
MAP Grant Easy Guide
: Outlines the highlights relating to MAP, as well as provides suggestions for projects under each of the funding categories.
Grant Policy, Article 1 - MAP Grant
: Outlines complete requirements, expectations, and deadlines to the MAP Grant. Read this document in its entirety to clearly understand the MAP Grant.
MAP Application Webinars
Attend one of these webinars to learn about the changes to MAP for 2020 and how to apply (registration is required).
MAP Grant Follow-Up
The MAP Grant follow-up deadline is September 30th at midnight.
MAP Grant Follow Up Guidelines
: Highlights important information relating to the follow-up process, what constitutes an acceptable receipt, and the funds dispersal process.
MAP Form Submission
MAP forms may be submitted by:
Contact the Coordinator of Member Services at (306) 519-1618 or
cms@sasksoccer.com
for support.