Sept 23 - Member Update
---
---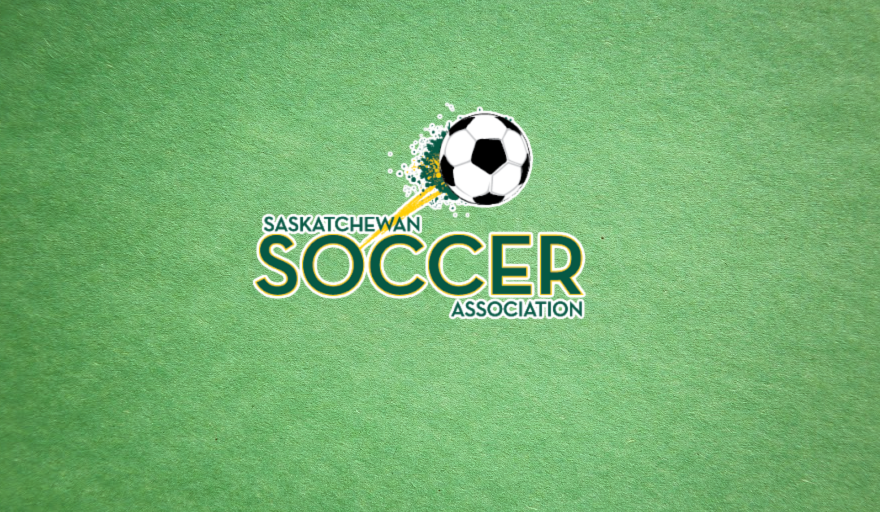 ---
Member Discussion
We are working to be in a better position to help all Member Organizations to understand the current issues surrounding COVID-19. To that end, we will be hosting a Member Discussion on September 28th. In the interim, please reach out to us via
cms@sasksoccer.com
if you have any concerns, or to share your local decisions, experiences, and questions.
Topics for Member Discussion:
Covid Updates
Fall Member Session and Bylaw Consult
SSA Awards
Competitions for 2022
Canada Summer Games
SSA Student Coach Credit Program
It is important that we hear from you, we invite all Member Organizations to have a representative in attendance Sept. 28th @ 8:00 pm. Please register to attend on Zoom:
Register Today
Meeting with BRT & Sask Sport
Yesterday Sask Sport hosted the second meeting of all sports since the latest
Public Health Order
was announced. The Business Response Team were on hand to answer questions from the sports.
We are aware that on October 1 the province will release its proof of vaccination policy. We anticipate that this will help clarify the requirements for Members that may be considering a Proof of Vaccination Policy. Typically, the government will provide the details a few days prior to the official announcement. We are uncertain, but hoping, that the details will come out early next week, so that we have more information for the
September 28 Member c
all. In any event, we will still hold our call, and will schedule additional calls as required if the announcement has a major impact on sport.
Yesterday we learned a few new things that may assist members in making informed decisions on how to operate safely during this fourth wave.
The information we provide to members is based on our interpretation of information that was shared with us. All Members are still required to undertake their own due diligence before making decisions by verifying information on the government COVID website or consulting with legal counsel if applicable.
COVID Contract Tracing
Public Health Order
- Section 2, Article e - Fully vaccinated individuals are not considered close contacts and are not required to self-isolate, as long as they are not showing symptoms.
Currently there is no requirement for members to maintain records of contact tracing. However, with the government contact tracing system under stress due to caseloads, members may wish to consider reintroducing tracing systems to support Sask Health in that process.
Section 3 of the PHO, Articles b, c, d indicate that a student (youth) who has been a close contact of an individual with COVID-19 is exempt from self-isolation if they do not display symptoms. We asked if youth in non-school sports and activities had the same exemptions as youth in school. It was confirmed that non-school extracurricular activities also fall under this exemption.
Youth who are close contacts, that are not exhibiting symptoms, are asked to self-monitor but may continue their extra-curricular activities. Should symptoms occur, they should self-isolate.
For adult member organizations that have implemented a full proof of vaccination policy:
Officials may be un-masked while active during the game. As long as they are vaccinated or have proof of a negative Covid test.
Exemptions - it was noted in general there are very few instances where a medical professional will say someone should not get a vaccine. Individuals may wish to apply for exemptions on other grounds, however, in all cases, these individuals would still require a negative COVID test to participate.
Standards for negative COVID tests remain undefined at this time, but should be clarified Oct. 1 and will be readily available once Government issued QR readers are available.
Proof of a negative COVID test - there is no defined timeline (e.g 48 or 72 hours before activity) however the Roughriders have set theirs at 72 hours before game day.
Other non-governmental COVID test and rapid tests are becoming more readily available, but the best source is a MySaskHealth QR code linked to health data, followed by government certificate or 2nd dose immunization wallet card. A declaration of compliance, including a statement indicating that a person is fully vaccinated, would not be sufficient.
We anticipate that many municipalities/facilities may require proof of vaccination to allow sport participation. However, it was encouraged that members not try to get ahead of what might be coming. Rather, all members should stay informed and be ready to act when new standards are implemented.
Sask Sport and BRT have not set a date for the next update meeting. It will be scheduled as soon as new information becomes available. As noted above, at that time we anticipate greater detail on proof of vaccination requirements.
Until then soccer can still be played for all ages:
Youth, 17 & under, do not have to mask during soccer.
Adults, 18+, must mask during soccer, unless a Proof of Vaccine Policy is in effect.
All Members are encouraged to become fully vaccinated as soon as possible. This will support reduced caseloads, keep our sport safe and encourage the government to once again reduce restrictions.
Participants are encouraged to sign up for MYSaskHealth to ensure that they can confirm their vaccination status if required.
Be Safe! Be the Solution! Stick it to COVID!
---
National Day for Truth and Reconciliation
September 30, 2021, is the first annual National Day for Truth and Reconciliation in Canada. It is a federal statutory holiday, however it's not a holiday in Saskatchewan. Therefore, Saskatchewan Soccer Association will remain open on Thursday September 30.
Saskatchewan Soccer Association believes it's important to take time to honour the ongoing process of reconciliation by engaging in the spirit of National Day for Truth and Reconciliation. Aligned to our
Everyone's Game
values, SSA staff will join our sport colleagues and wear orange shirts September 30. We encourage all our members to learn more about the process of Truth and Reconciliation and become involved on September 30.
The history of Orange Shirt Day originates from 1973, when Phyllis Webstad attended her first day of Residential School, and had her new orange shirt stripped from her, never to be seen again. 40 years later in 2013 the Orange Shirt Day movement began. This movement helped to lead the Federal Government towards designating September 30 National Day for Truth and Reconciliation. It was also a response to Truth and Reconciliation Call to Action 80, which called for the establishment of a statutory day to "honour Survivors, their families, and communities, and ensure that public commemoration of the history and legacy of residential schools remain a vital component of the reconciliation process".
---
Upcoming Important Deadlines - September 30
Outdoor Registration - Final submission deadline for 2021 Outdoor Registrar Report and fees. This will include registrations received June 1 up to and including September 30.
If you have any questions or would like assistance with your organization's MAP Grant Follow-up, please contact Eden Senger:
e.senger@sasksoccer.com
Updated Benefits Document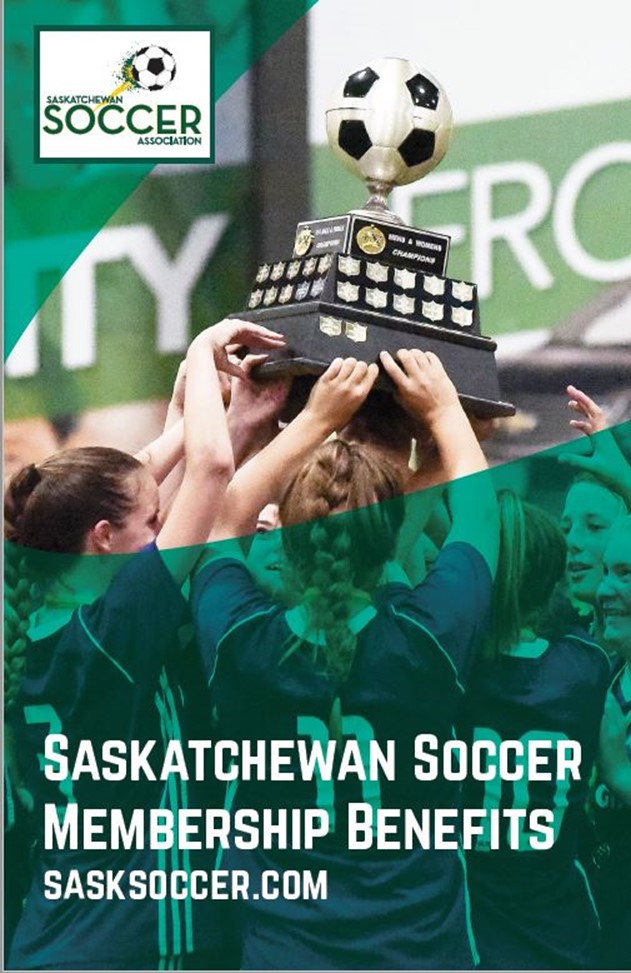 The Saskatchewan Soccer Membership Benefits Document has recently been updated, it can be viewed
here
or from the SSA
website
.
Membership with Saskatchewan Soccer entitles you to access SSA's many programs and services. Your membership provides you with numerous opportunities to enhance your soccer experience that are not available to non-members. This document outlines the benefits for your players, coaches, referees, organizers and community that SSA supports.
For more information about the benefits of membership, contact the Coordinator of Member Services at
cms@sasksoccer.com
.
SSA Awards Nominations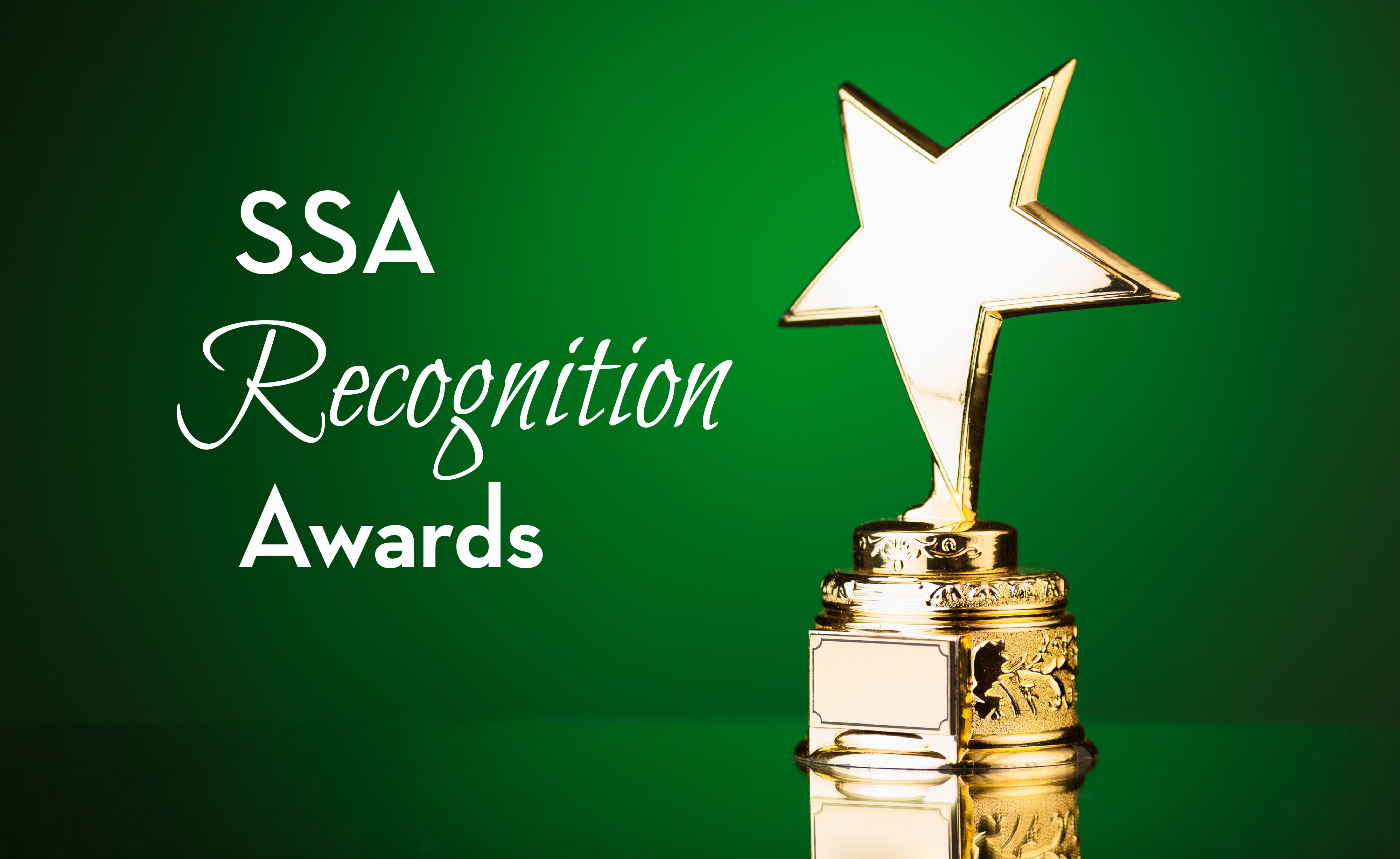 Do you know someone that goes above and beyond, on or off the field?
SSA extends the invitation to nominate players, teams, coaches, referees, and volunteers that exemplify the Values, Vision, and Mission of the organization! Award nominees and winners will be celebrated during the Recognition Celebration, date to be announced.
The deadline to submit nomination forms for the Saskatchewan Soccer Association Technical and Recognition Awards is on December 15.
To submit a nomination and for further information about the Awards and Recognition process, please visit the
SSA website
or email:
cms@sasksoccer.com
.
Award Categories include the following:
· Female Youth Player of the Year
· Male Youth Player of the Year
· Female Adult Player of the Year
· Male Adult Player of the Year
· Adult Futsal Player of the Year
· Soccer for Life Player of the Year
· Competitive for Life Award
· Multisport Athlete Award
· Youth Coach of the Year
· Coaching Dedication Award
· Soccer For Life Coach of the Year
· Youth Team of the Year
· Referee of the Year
· Member Organization of the Year
· Soccer for Life Team of the Year
· Volunteer of the Year
· David Newsham Award
---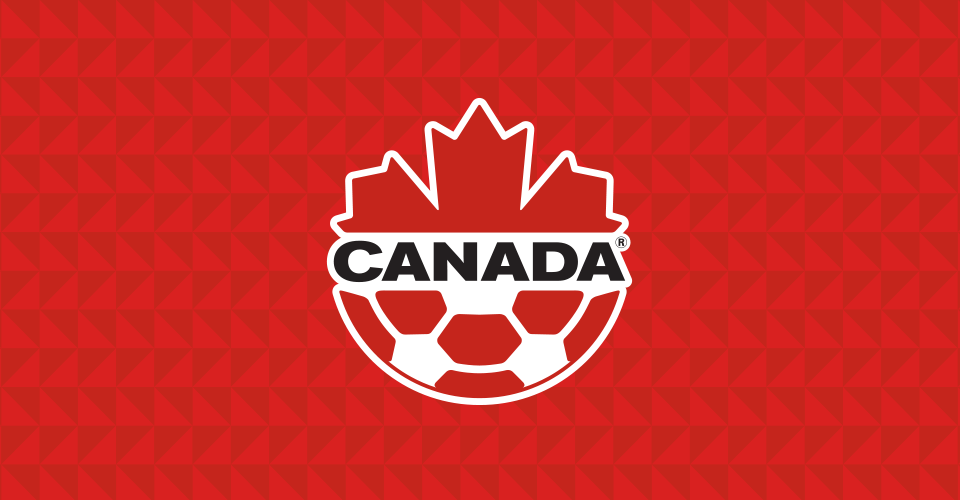 Club Licensing Update
On August 19, we sent an update to Member Organizations with important information related to Canada Soccer Club Licensing, including the Invitation to Apply for Canada Soccer's National Club Licence, Accessibility to Competition for 2022, and the 2021 Submission Deadline. For those groups wishing to participate in the competitive stream in Outdoor 2022, please ensure to submit your Club Licensing application by October 1st.
Read more here
.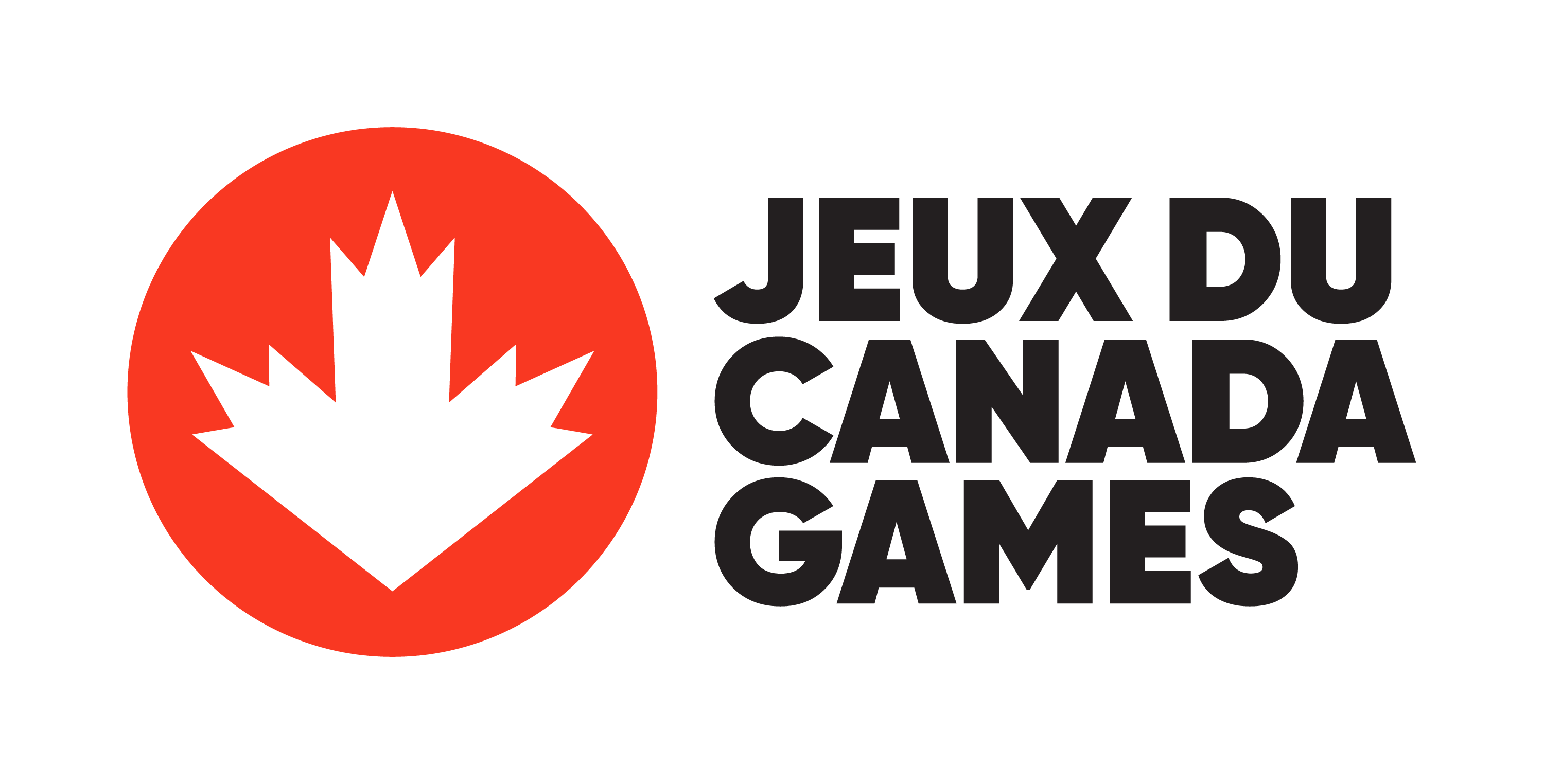 Canada Summer Games 2022 - Program Information Released
The 2022 Canada Summer Games program has been released. All the information for the Games, including Player Registration Dates, Identification Dates, Training Camp Dates, Coach Applications & Tournament Dates can be found in the Program Information Package linked below.
Coaching Applications are now open for applicants, with the application process closing on October 21, 2021. If you know of an interested coach, please encourage them to submit their application. Program Information Package:
Click Here
If you have any questions about the Program Information Package or Canada Summer Games, please contact Adam Miller at
a.miller@sasksoccer.com
.
---
Female Mentorship Program 2021/2022
After a successful first year of the Female Mentorship Program, we are excited to continue this program for year two. An overview of the program is below. In an effort to continue growing female leaders within our soccer community, this program is open to any Coach, Referee, Board Member or Organizer within a SSA Member Organization.
For an application to join the Female Mentorship Program:
Click Here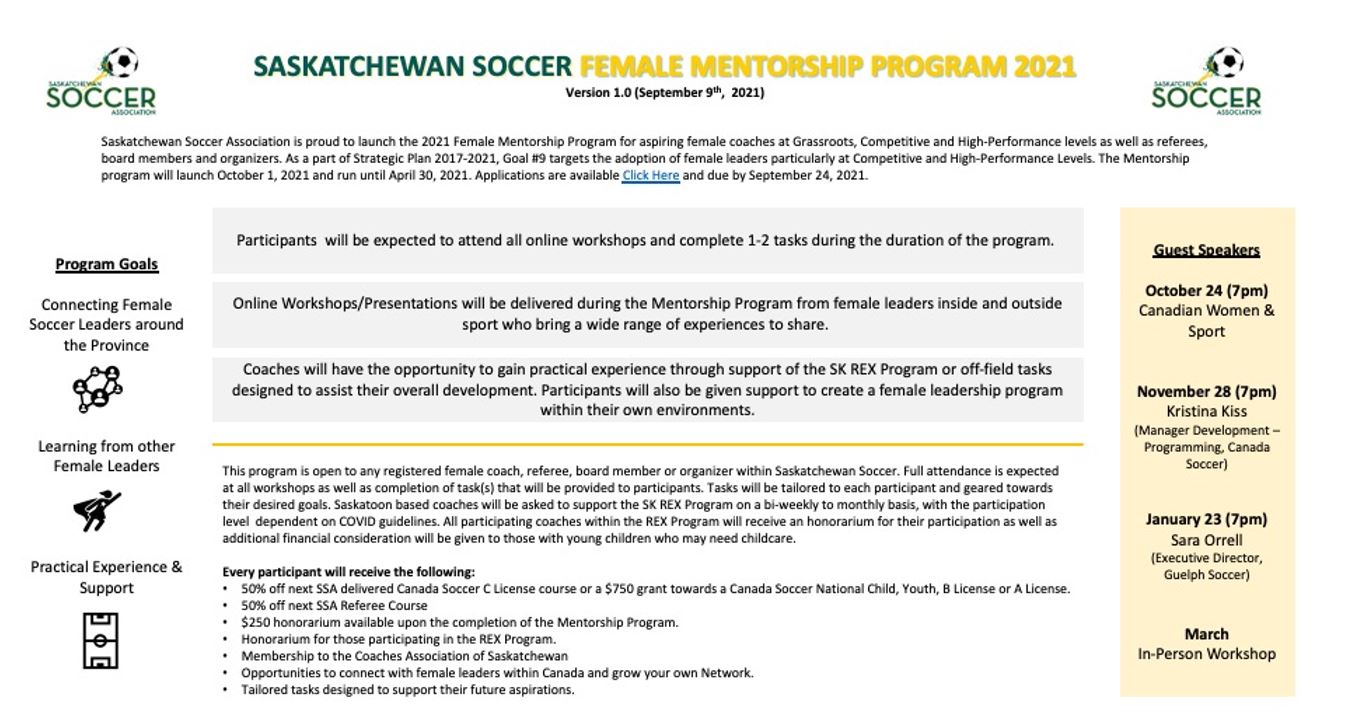 ---
Futsal
Saskatchewan Winter Games - Futsal will make its debut at the Saskatchewan Winter Games February 20-26, 2022, in Regina. Player ID Camps will take place between October and November with team selections set to be announced in December.
Registration information for SWG Regional ID Camps will be posted on the SSA website October 1.
Futsal Referee Development - To help develop futsal in Saskatchewan, online referee courses are now available. Instructors and materials are ready to go and are awaiting registrants. The online education for futsal is province-wide for registered referees. Registration is available through your members RAMP registration portal. A first course under the new format was held in Saskatoon on Sept 18 with nine new Futsal referees graduating the course.
Futsal Provincials - Men's and Woman's Futsal Provincials will be held in 2022. There will be no youth competition or Prairie Futsal championships in 2022. Youth competitions will return in 2023.
2021 Futsal World Cup - The ninth FIFA Futsal World Cup has completed the group stage with the top 16 teams qualifying for the knockout stage. Portugal, Brazil, Spain and Argentina have all qualified, along with surprise qualifications from Morocco, Kazakhstan, Iran and Uzbekistan. For the latest results and scores, please visit the
FIFA website
. The FIFA Futsal World Cup final is scheduled for 11:00 am Saskatchewan time on Sunday October 3.
The 2021 Futsal World Cup is a great opportunity to follow this beautiful game (CTV, TSN, RDS), in preparation for the 2022 SK Winter Games where Futsal is included as a sport for the first time.

5 Ways You Can Take Part
Enjoy FREE or discounted NCCP education
: During National Coaches Week, coaches can diversify their coaching knowledge with free or discounted NCCP education. Connect with your local
P/TCR
, or
National Sport Organization
to learn more about their National Coaches Week events, or
log into the Locker
to access specific eLearning modules for free from September 18-26, 2021.

#ThanksCoach #SaskSoccer - *BONUS SASK SOCCER PRIZE PACK!
Say
#ThanksCoach
#SaskSoccer
on social media for your chance to win a Sask Soccer Prize pack: To enter simply tell us why your Coach is great and thank them on social media using the hashtags, #ThanksCoach and #SaskSoccer. On September 26 Sask Soccer will pick one lucky entry from all the posts and send out a prize pack for you and your Coach!
---

Each week visit Everyone's Game Resource Centre on our weekly communication to find informational and inspirational articles, member interviews, and developmental opportunities.
Monthly Member Interview: We are looking for individuals to interview! The discussion will be centered around the importance of diversity, inclusion, and equity within soccer. We would love to hear personal stories, community projects, or inspiring moments that demonstrate the importance of inclusivity and diversity within our game.
Past Interviews
Educational Resources: Staring this year, September 30 has been declared the National Day for Truth and Reconciliation and a federal statutory holiday. For the past several years, Sask Sport has recognized Orange Shirt Day on September 30 as a way to honour residential school survivors and their families and to commit to the ongoing process of reconciliation.
---
SSA Calendar of Events & Deadlines
Recordings of past webinars and COVID 19 member calls can be found on our
YouTube Channel
.
September 18-26: National Coaches Week - Say #ThanksCoach #SaskSoccer on social media for your chance to win a Sask Soccer Prize pack!
December 15: The deadline to submit nomination forms for the Saskatchewan Soccer Association Technical and Recognition Awards
February 20-26: Saskatchewan Winter Games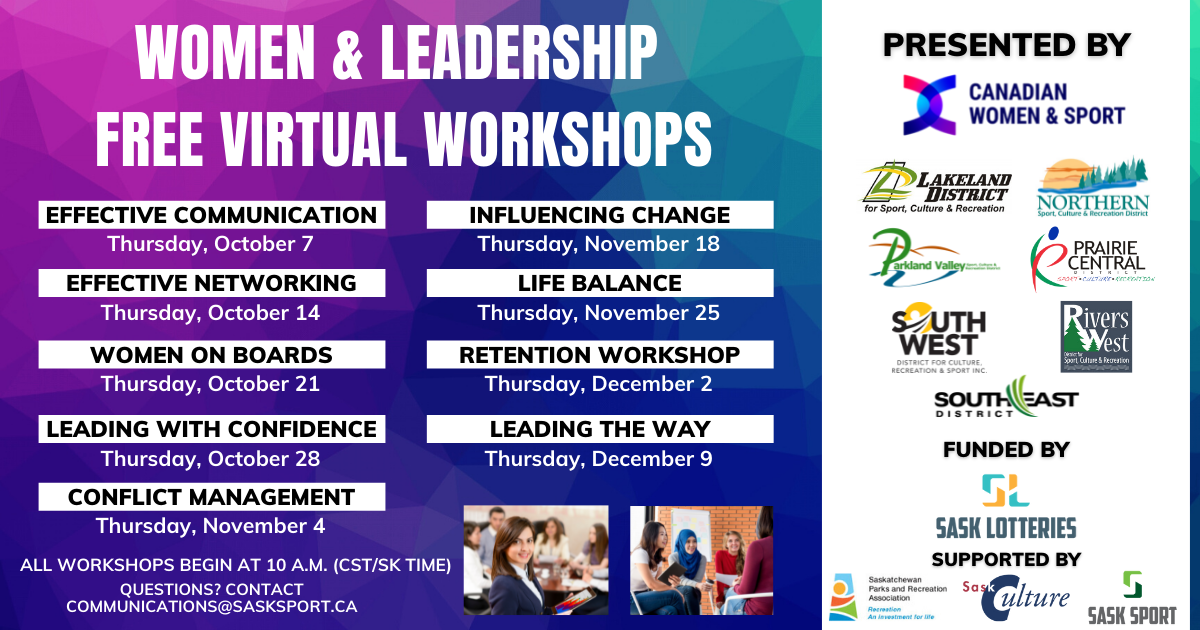 BE SAFE! BE THE SOLUTION!
As a reminder, please continue to take care of yourself, your families, and others.