Sept 9 - Member Update
---
---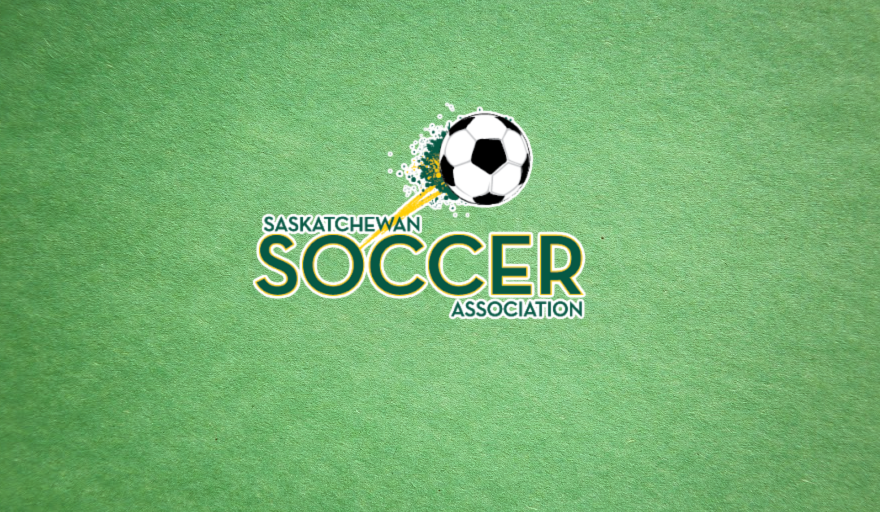 ---
COVID UPDATE
SSA has been monitoring the advancement of COVID province wide with growing concern. We have been working to gather key information so that we can provide guidance to members to allow you to make informed choices.
This week, Sask Sport hosted a member meeting with representatives from the Business Response Team (BRT) and the Ministry of Parks, Culture and Sport in attendance. The BRT made it clear that we have not had a province wide health order since July 11 and it is not likely new guidelines for sport will be introduced. The Ministry of Parks, Culture and Sport provided no comment during the meeting.
While BRT offered support, they stressed that they cannot provide legal guidance due to the unique circumstances for each organization. It was stressed that the legal and human rights complexities of denying a person access to play, or requesting and storing private medical information, have yet to be challenged in court. They also indicated that privacy legislation is not clear cut and can be difficult to navigate. For further details on the government's position and for a FAQ for Businesses and Workers, click
here
.
While many groups may be considering vaccinations or proof of a clear COVID test to participate, there are significant legal and logistical challenges to work out. This is uncharted territory from a legal perspective, and it is likely that decisions, in either direction, will be challenged, possibly in court. BRT also said we cannot be confident that there will be a readily available system to monitor and track vaccination status, and with provincial staffing cuts we are unsure of the available support for contact tracing in the future. While the government is working on QR Codes to confirm vaccination status, we were advised there is no timeline for this release. People will be challenged to provide printed verification of their vaccination status, with only 30% of the adult population having enrolled in MySaskHealthRecord, and very few youth (under 18) on the system; the means to properly verify and manage health information is still very much in question. However, with large groups like the Roughriders tackling the issue, this is one area where we may see progress in the weeks ahead.
SSA and our sport colleagues have asked for direction and guidance to clarify the many very complex issues we face, but to date the only guidance we have received is that each group needs to consult with legal counsel and make their own informed decisions. While more businesses, municipalities and groups are mandating masking and vaccinations, there is still no clear direction on the many questions that need answering. Some of our sports colleagues are moving forward with mandatory vaccinations, while others have stated they will not restrict participation.
Some municipalities are reacting to the increasing cases with mask and/or vaccination mandates and the impact will be inconsistent across the province for some time. Some of our Member Organizations have had to respond to directives from their municipalities to follow enhanced safety protocols, while others have made public statements that they will be taking their lead from the provincial government.
The challenge volunteers and staff will face must also be carefully considered. Because this is such a polarizing issue - the response from individuals, on either side of the debate, when a decision is made, one way or the other, will be a challenge for all sports to manage. What we will insist on is respectful behaviour at all times.
SSA is currently working with our Risk Management Committee, legal counsel, and Board, and will engage with SSA Member Organizations and other sports to share knowledge, identify common concerns and begin to better understand the complexities of the issues that are in front of us.
To summarize: the message that was reinforced in the Sask Sport meeting is that each organization needs to do their own risk assessment and get their own legal guidance to understand what should be done. Each Member Organization should determine what is best for their membership. SSA is working diligently to assemble relevant information so that we can provide guidance so that Member Organizations can make informed decisions.
Until we are able to provide more clarity, we encourage all Members to continue to put safety first. Basic COVID-19 transmission prevention measures have proven to be effective and are always available to you (even if you are fully vaccinated):
Encourage all eligible participants, volunteers, parents, spectators to be fully vaccinated
Insist that all interactions are respectful to keep organizers supported, engaged and safe.
Enforce that all self-monitor for symptoms, stay home if sick and seek a COVID-19 test. The Know Your Risk checklist can help you with that personal assessment. People who are fully vaccinated are no longer considered a close contact.
Encourage masks indoors when not active on the pitch; remind participants that masks remain an option during activity.
Reduce gathering sizes and minimize access to indoor facilities before and after activity.
Continue to stress health protocols:
Wash your hands often and encourage good cough and sneeze etiquette.
If soap and water are not available, use hand sanitizer approved by Health Canada.
Routinely clean common surfaces.
Increase ventilation by opening windows in summer and increasing fresh air intake and air exchange of heating and cooling systems.
---
Member Discussion
We are working to be in a better position to help all Member Organizations to understand the current issues surrounding COVID-19 and come up with solutions. To that end, we will be hosting a Member Discussion on September 28
th
. In the interim, please reach out to us via
cms@sasksoccer.com
if you have any concerns, or to share your local decisions, experiences, and questions.
While we understand the urgent need for further clarity, we ask for your patience.
Be Safe! Be the Solution! Stick it to COVID!
Upcoming Important Deadlines - September 30
Outdoor Registration - Final submission deadline for 2021 Outdoor Registrar Report and fees. This will include registrations received June 1 up to and including September 30.
If you have any questions or would like assistance with your organization's MAP Grant Follow-up, please contact Eden Senger:
e.senger@sasksoccer.com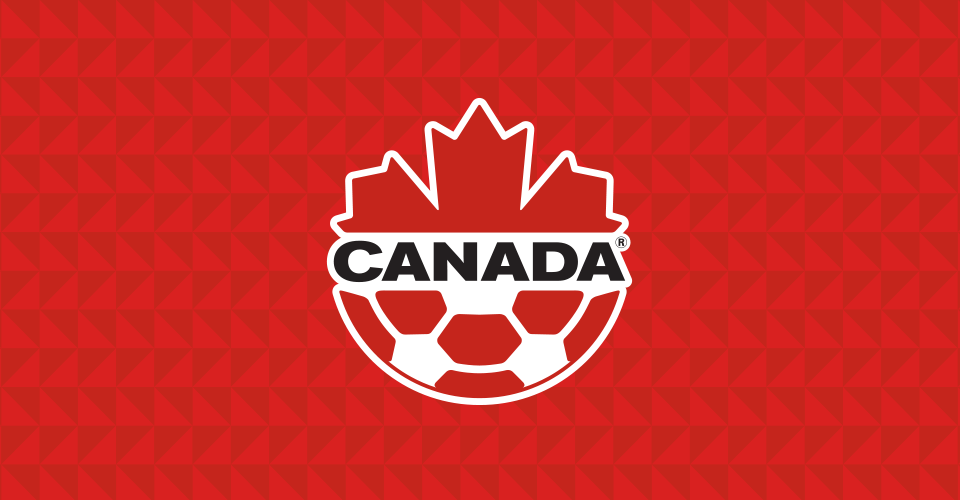 Club Licensing Update
On August 19, we sent an update to Member Organizations with important information related to Canada Soccer Club Licensing, including the Invitation to Apply for Canada Soccer's National Club Licence, Accessibility to Competition for 2022, and the 2021 Submission Deadline. For those groups wishing to participate in the competitive stream in Outdoor 2022, please ensure to submit your Club Licensing application by October 1st.
Read more here
.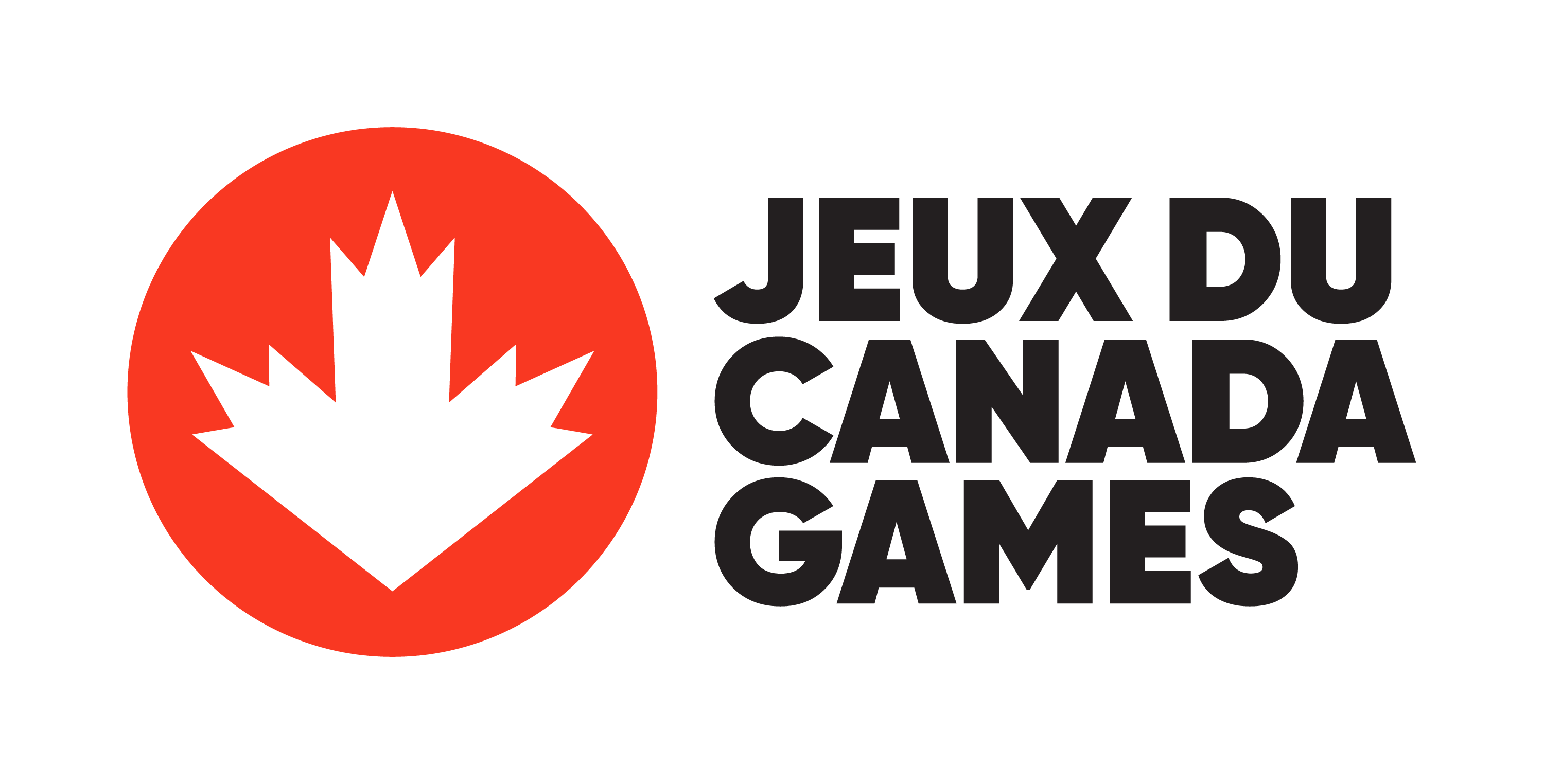 Canada Summer Games 2022 - Program Information Released
The 2022 Canada Summer Games program has been released. Coaching Applications close on October 21, 2021. If you know of an interested coach, please encourage them to submit their application.
---
Female Mentorship Program 2021/2022
After a successful first year of the Female Mentorship Program, we are excited to continue this program for a 2nd year. An overview of the program is below. In an effort to continue growing female leaders within our soccer community, this program is open to any Coach, Referee, Board Member or Organizer within a SSA Member Organization.
For an application to join the Female Mentorship Program:
Click Here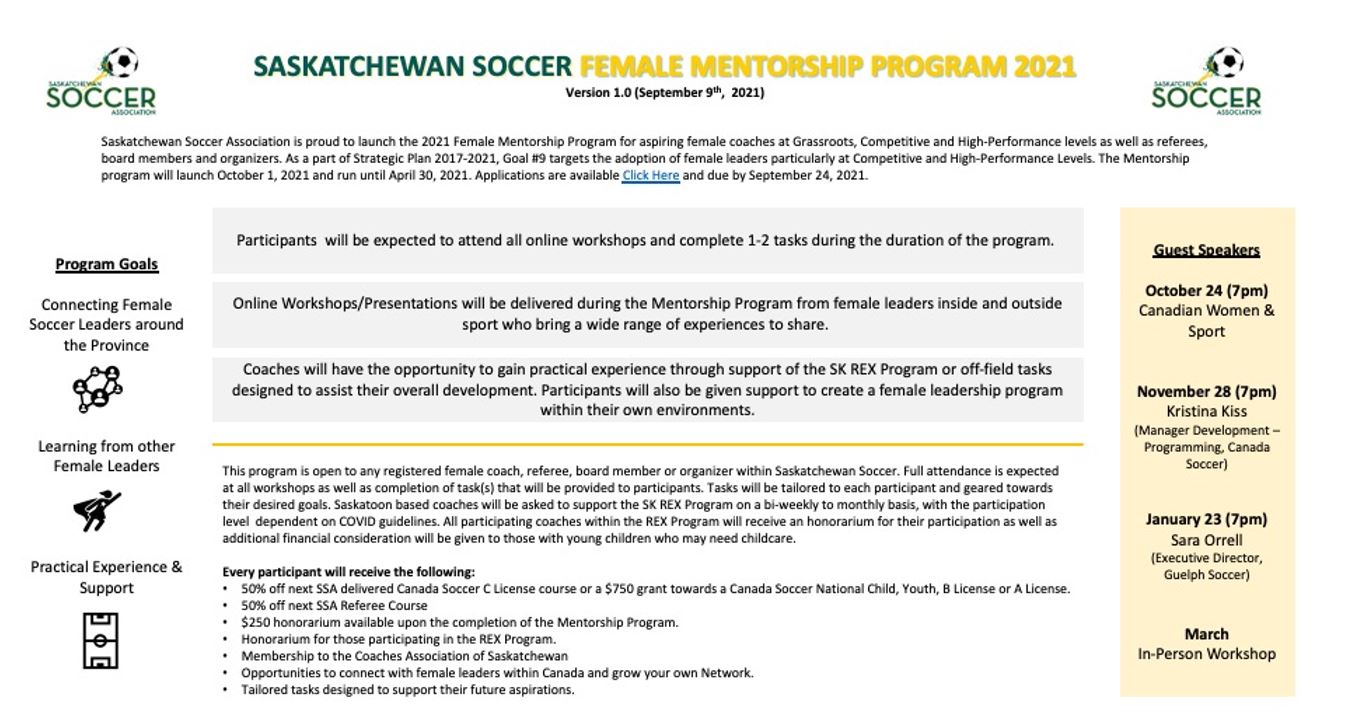 ---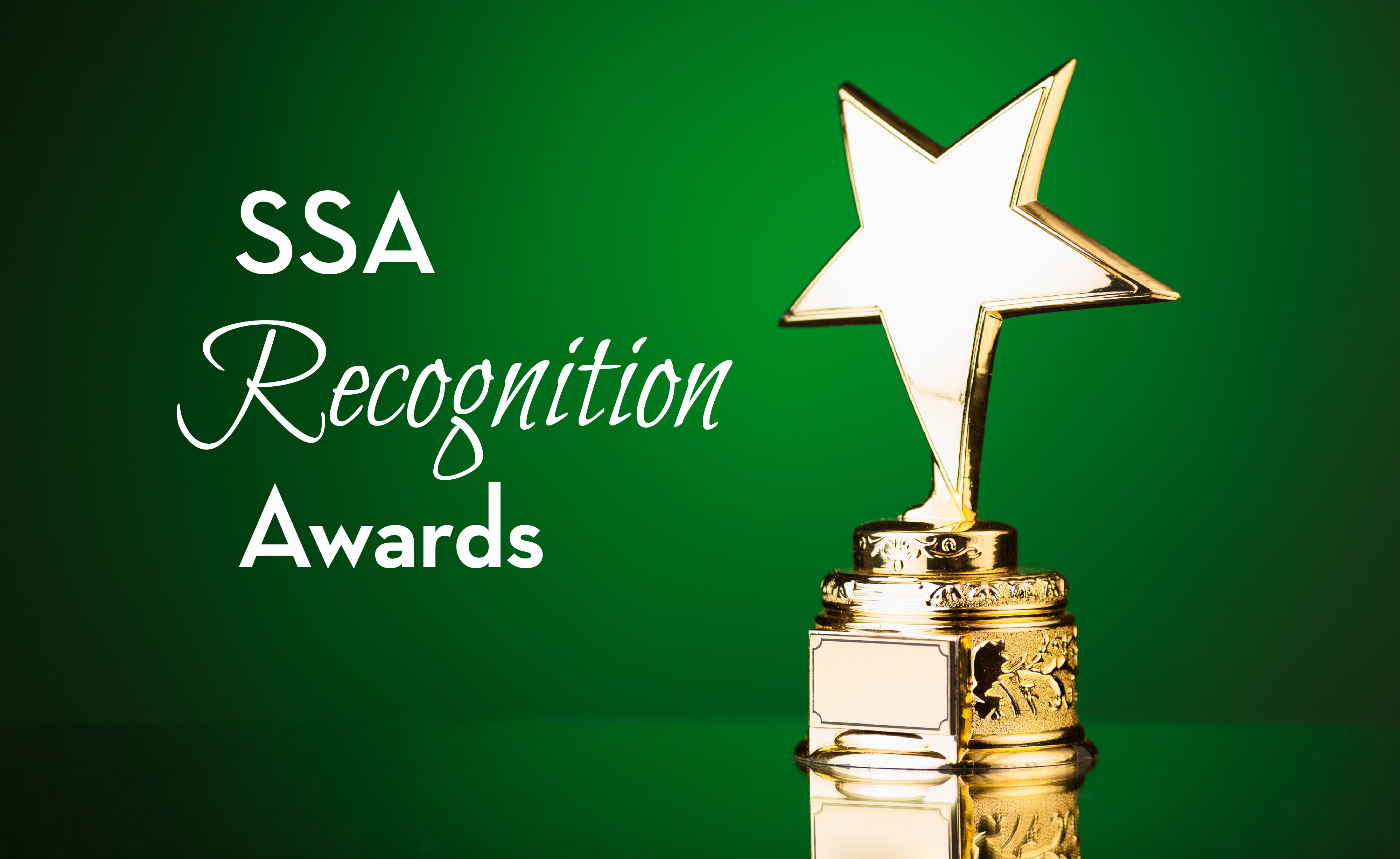 SSA Awards Nominations
Do you know someone that goes above and beyond, on or off the field? SSA extends the invitation to nominate players, teams, coaches, referees, and volunteers that exemplify the Values, Vision, and Mission of the organization! Award nominees and winners will be celebrated during the Recognition Celebration, date to be announced.
The deadline to submit nomination forms for the Saskatchewan Soccer Association Technical and Recognition Awards is on December 15.
To submit a nomination and for further information about the Awards and Recognition process, please visit the
SSA website
or email:
cms@sasksoccer.com
.
Award Categories include the following:
· Female Youth Player of the Year
· Male Youth Player of the Year
· Female Adult Player of the Year
· Male Adult Player of the Year
· Adult Futsal Player of the Year
· Soccer for Life Player of the Year
· Competitive for Life Award
· Multisport Athlete Award
· Youth Coach of the Year
· Coaching Dedication Award
· Soccer For Life Coach of the Year
· Youth Team of the Year
· Referee of the Year
· Member Organization of the Year
· Soccer for Life Team of the Year
· Volunteer of the Year
· David Newsham Award
Coach Education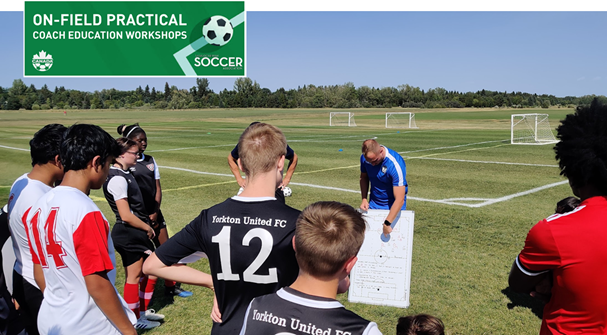 Registration is now open for the practical on-field portions of the Canada Soccer GRASSROOTS Coach Education Programs (Active Start, FUNdamentals, Learn to Train and Soccer 4 Life) courses. As well as practical on-field portions of the Canada Soccer ADVANCED Coach Education Programs (C-Licence) courses.
Initial dates have been scheduled for Regina and Saskatoon as follows:

HOW TO REGISTER - Registration access is available through your Member Organizations RAMP registration Portal. Registration windows will close 7 days prior to the course start date.
*IMPORTANT Reminders*
Member Organizations should include a "Register for Coach Clinics" section on their website, social media, or through email communications. The coaching clinic registration is done through your organizations RAMP registration system.
All Coaches interested in registering for the practical on-field courses are required to have completed the on-line theory portion of the course prior to registering. Coaches who have not completed the online training at time of registration will not be accepted.

5 Ways You Can Take Part
Enjoy FREE or discounted NCCP education: During National Coaches Week, coaches can diversify their coaching knowledge with free or discounted NCCP education. Connect with your local
P/TCR
, or
National Sport Organization
to learn more about their National Coaches Week events, or
log into the Locker
to access specific eLearning modules for free from September 18-26, 2021.

#ThanksCoach #SaskSoccer - *BONUS SASK SOCCER PRIZE PACK!
Say #ThanksCoach #SaskSoccer on social media for your chance to win a Sask Soccer Prize pack: To enter simply tell us why your Coach is great and thank them on social media using the hashtags, #ThanksCoach and #SaskSoccer. On September 26 Sask Soccer will pick one lucky entry from all the posts and send out a prize pack for you and your Coach!
Futsal
Saskatchewan Winter Games - Futsal will make its debut at the Saskatchewan Winter Games February 20-26, 2022, in Regina. Player ID Camps will take place between October and November with team selections set to be announced in December.
Futsal Referee Development - To help develop futsal in Saskatchewan, online referee courses are now available. Instructors and materials are ready to go and are awaiting registrants. The online education for futsal is province-wide for registered referees. Registration is available through your members RAMP registration portal.
Futsal Provincials - Men's and Woman's Futsal Provincials will be held in 2022. There will be no youth competition or Prairie Futsal championships in 2022. Youth competitions will return in 2023.
2021 Futsal World Cup - The ninth FIFA Futsal World Cup will be contested by 24 men's national teams of the member associations of FIFA. The tournament will be held in Lithuania from September 12, through October 3, 2021.
Typically, this tournament is held every four years between World Cups. However, due to the pandemic it had to be rescheduled and will be subject to further monitoring.
Argentina are the defending champions, defeating Russia 5-4 in the 2016 Futsal World Cup Final.
This is a great opportunity to follow this beautiful game (CTV, TSN, RDS), in preparation for the 2022 SK Winter Games where Futsal is included as a sport for the first time.

Each week visit Everyone's Game Resource Centre on our weekly communication to find informational and inspirational articles, member interviews, and developmental opportunities.
Educational Resource:
Sask Sport is partnering with Canadian Women and Sport and Saskatchewan's seven Sport, Culture and Recreation districts to offer free virtual Women and Leadership workshops, covering nine unique topics, from October to December 2021. The workshops will run every Thursday at 10 a.m. (CST/SK time) starting October 7.
All workshops
qualify for coaching Professional Development points.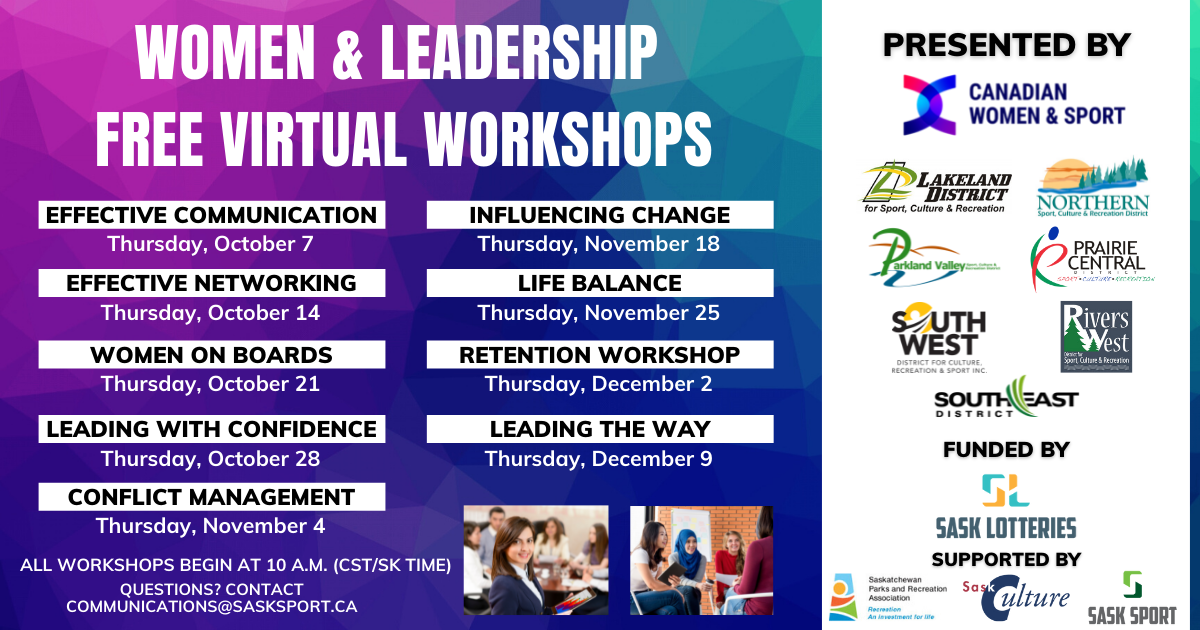 Monthly Member Interview:
Check back for new interviews in September!
---
Ready for Indoor?
SSA has an online theory module to support referee readiness for the Indoor season which is fast approaching. The module can be started at any time (accessible through your own Member Organization Ramp registration portal) to be followed by a one-day classroom/practical session in order to be certified.
For more details, please visit
our website
. If you need assistance in contacting previously registered referees, or to set up a new Referee Course, please contact Octavian Iliuta at
ccd@sasksoccer.com
. We are here to help!
Canadian Men's National Team World Cup Qualifying
The Canadian Men's National team is on a roll as they hope to qualify for the 2022 World Cup in Qatar. They are playing in the CONCACAF final qualification phase which includes seven other national teams from the region. Each team plays each other at home and away for a total of 14 matches. The top three teams in points will automatically qualify for the World Cup. The fourth-place finisher will enter a further qualification.
Over the past week the Men's National team has gone undefeated in three matches to start this qualification phase. One of the highlights for the team was holding the Americans to a 1-1 draw in Nashville on Sunday. Then on Wednesday, a huge 3-0 victory over El Salvador in Toronto sent Canadian soccer fans wild. This has inflated Canada's hopes of qualifying for the first Men's World Cup Final tournament since 1986.
Canada's next match is in Mexico on Thursday October 7. On Sunday October 10, Canada plays in Jamaica. On Wednesday October 13, Canada faces Panama in Toronto. This qualification phase will end in March with dates and venues for the rest of the matches yet to be decided. Go Canada!
---
SSA Calendar of Events & Deadlines
Recordings of past webinars and COVID 19 member calls can be found on our
YouTube Channel
.
September TBA: Next Member Session
BE SAFE! BE THE SOLUTION!
As a reminder, please continue to take care of yourself, your families, and others.