Canadian Premier League in Saskatchewan!
The Canadian Premier League (CPL) announced today that Living Sky Sports and Entertainment Inc. (LSSE) has been awarded the exclusive rights to launch a CPL expansion team in Saskatchewan.
"First off, we want to thank Al Simpson and his ownership group for their vision and commitment to bring the world's game to Saskatchewan on a professional level. We are also grateful to the Canadian Premier League; with this announcement, they are another step closer to building a truly Canada wide league.
Saskatchewan Soccer's Mission is "to develop great people and connect healthy communities through lifelong participation in soccer."
Our goal at SSA, is to ensure all soccer athletes, coaches and referees have opportunities available so they may achieve their dreams to play and participate at whatever level they aspire to.
With a Canadian Premier League team in Saskatchewan, led by local ownership, we send a strong message that you can achieve your dreams in soccer, not only within our country, but right here in our home province." SSA President, Lisa Bagonluri
The presence of a CPL team will bring tremendous benefits to the growth of the game at all levels, from grassroots through to high performance. All sport fans need heroes to cheer for that they can relate to, and provincial teams help to fuel people's passion for the game. A CPL team in Saskatchewan will bring fans together and draw in new players and supporters.
"With hard work, common vision and alignment of effort, the talents of our skilled athletes will be recognized. We look forward to seeing Saskatchewan players making an impact in the CPL on a Saskatchewan team. We also hope that a CPL franchise will spark the passion of our coaches, referees and volunteers.
It is known worldwide that Saskatchewan sport fans are incredibly loyal and supportive and a partnership between SSA, our members and the CPL franchise will be mutually beneficial. This is truly a historic day for soccer in Saskatchewan and we thank owner Al Simpson and the Canadian Premier League for their confidence in our soccer community." SSA Executive Director, Doug Pederson
Read and watch more about today's release at the links below:
Celebrating Women Leaders
In celebration of International Women's Day, we took the week to celebrate women leaders in Saskatchewan Soccer. We asked our members to nominate influential women in their communities and the response was overwhelming. Each of these women have broken through barriers, brought dreams to reality, and have planted roots for future leaders. We know there are many more women leaders in Saskatchewan, and we want to thank you all for the many contributions you have made to soccer!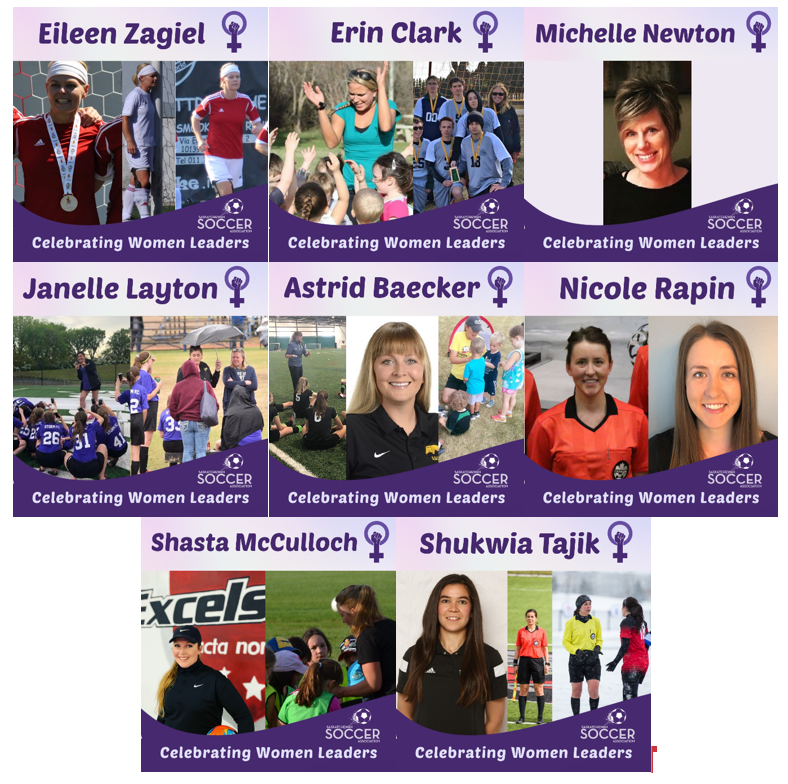 NEW - Gender Equity Lens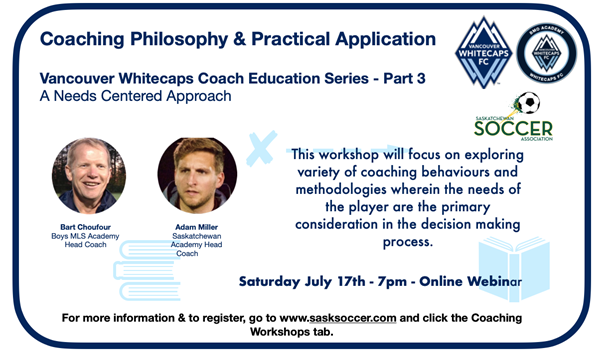 The new Gender Equity LENS e-learning module gives you the information and tools you need to act on your commitment to gender equity, helping you make policy and program decisions to better serve women and girls in your sport.
You'll learn how to bring a gender lens to your decision-making and create the conditions to support women and girls to participate, lead and stay involved.
Pre-Registration Code: SSA-GEL-N6P9K6G
Keeping Girls in Sport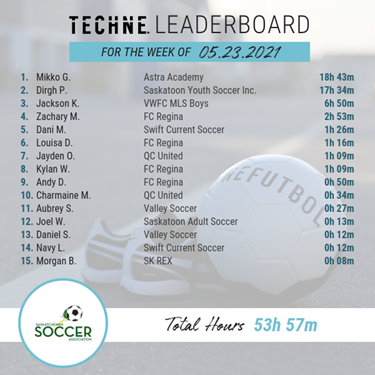 Keeping Girls in Sport is a 90-minute interactive online course designed to help coaches, mentors, and leaders understand what girls need to feel included, be successful, and stay active. Saskatchewan Soccer is proud to offer Keeping Girls in Sport to soccer participant interested to take the course.
Pre-Registration code: SSAKGIS-U9N3U9M
AGM Reminder
Reminder the SSA AGM is next weekend on Saturday, March 20th and the deadline to register is March 15th.
SSA's Strategic Plan emphasizes reward based member recognition and Members will be rewarded through the MAP Grant Population Based Funding for (jointly) renewing their membership on time and being in attendance at the SSA Annual General Meeting!
FINAL REMINDER - Membership Renewals Due
Membership Renewals are due March 15 at noon.
The
Return to Soccer Stimulus Strategy
requires Member Organizations to meet all requirements of the membership renewal on time in order to be eligible. Organizations that are unsure if they will have a season for 2021 should still renew to maintain their membership status and benefits.
- Select Executive Registration
- During this process it will ask if you are the primary or secondary contact
- Complete form and submit payment via E-transfer, Cheque, or online with credit card.
---
Return to Soccer
This week, on a meeting with Sask Sport and other provincial sport governing bodies, we learnt that we should not expect to see a change to the provincial guidelines for sport until April 19th earliest. The government, however, is optimistic, and if vaccinations continue to progress and case numbers remain in decline, they express confidence in outdoor sports ability to operate closer to normal this summer.
Based on communications SSA has had with the Business Response Team (BRT), at this point, when restrictions are loosened, it appears traditional games may be allowed but travel and large gatherings may still be restricted. Overall, this is a very good sign, and we encourage Members to continue to plan for outdoor league play.
While this message is optimistic there remain many questions that currently we are unable to answer. SSA continues to work closely with Canada Soccer and Sask Sport on Return to Play options. SSA has offered to assist the Business Response Team in the development of revised guidelines so that we can provide a sport perspective. We believe this would increase clarity and reduce the volume of questions that occur when new guidelines are released.
In the meantime, we are asking for your assistance to help develop a list of questions regarding the outdoor season.
You may enter your questions and comments on this form
. It may take a while to get answers, but we will seek clarification and provide additional information when possible.
PLEASE BE REMINDED: All Member Organizations must have a Return to Soccer Plan and complete the Risk Assessment tool before returning to the pitch (those who have already returned to soccer since the pandemic began do not need to recomplete).
Upcoming 'How to Create a Return to Soccer Plan' Webinars:
---
Sport Helps
We would also request your assistance to support a mutli-sport, national initiative. Canada Soccer - along with other event-driven NSOs including Hockey Canada, Tennis Canada, Curling Canada, Rugby Canada and Skate Canada - have been working with on a Government Relations strategy in regards to an
ask of the Federal Government
in support of the grassroots sport community in the Federal Budget of 2021.
SportHelps.ca
was created to facilitate a letter-writing campaign to Federal MPs in order to bring to their attention to the impact of COVID-19 on sport across the country, especially at the grassroots sport community level. Below is a draft email that can be sent to members and stakeholders to facilitate the letter-writing campaign which can be accomplished quickly and easily via the tool on
https://www.sporthelps.ca/
.
We thank you in advance for your support in this matter.
================================================
Dear Canadian Soccer Community,
With just 30 seconds of your time, you can ensure local soccer programs have support from all levels of government to continue growing the sport in Canada. Players, parents, and volunteers in our communities all benefit from sport, which is why we have joined the Sport Helps campaign.
The COVID-19 pandemic has caused many events and programs to be cancelled, reducing revenues and impacting programs from the grassroots, development and National Teams. To help offset these losses and ensure continuity of our programs, we have partnered with other national sports organizations to ask the government for added support.
We want to see programs and events come back strong and are pushing for investments in the upcoming federal budget. We hope you will lend your voice to help the national soccer community make sure politicians understand what is at stake.
WRITE A LETTER
To get active, we ask that you go to
www.sporthelps.ca
and click the 'take action' button.
You can then send a letter with just a few clicks to your local MP, the Minister of Finance and the Minister responsible for Sport in Canada. By entering your name and address the tool will personalize and send the letter on your behalf.
SOCIAL MEDIA
We also ask that you share the message below on social media to help drive traffic to this site:
"Sport helps Canada. National sport organizations can help us recover from COVID-19. Sport makes people healthier, builds communities and creates jobs. Sport must be part of our recovery. Lend your voice at
www.sporthelps.ca
! #SportHelps"
The Sport Helps site also has a number of visuals that you can use to make sure your message stands out online. We encourage you to copy or download those images to use in your social post.
================================================
We are grateful for the positive message shared by BRT, and the efforts of Canada Soccer, Sask Sport and, SSA Membership, and for the first time in many months, we are very optimistic for the spring and summer seasons and look forward to working with you to get back to game!
Engaging Newcomers
This week we attended the Regina Open Door Society Society (RODS) Community Fair, with both FC Regina and Queen City United. We had a great experience introducing local programming opportunities to those in attendance and thank RODS for having us.
We encourage all member organizations to reach out to Settlement agencies and Open Door Societies to build partnerships and engage newcomers. See our
Newcomer Engagement Resources page
to find a Saskatchewan based organization near you! Already engaging newcomers through partnerships or other opportunities?
Share your experience
!
---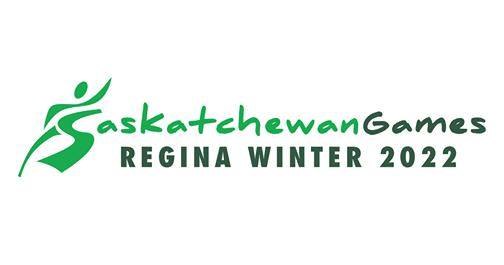 Saskatchewan Winter Games Coaching Applications close MARCH 15
Support the growth of futsal in your Sask Sport District and our province and apply to be part of the team staff for the 2022 Saskatchewan Winter Games!
Coaches are required to hold a minimum C-Licence. However, there is no futsal experience necessary to apply and coaching education will be available leading up to the event.
---
On March 10th, we were proud to announce the 2020 Saskatchewan Soccer Association Recognition Award Nominees.
Our players, coaches, referees, and volunteers had an outstanding year in 2020, and we are excited to celebrate all of their accomplishments. We hope you can join us for the online ceremony
LIVE on Facebook on March 31st at 7:00 pm
.
Techne Launch Week 1 Leaderboard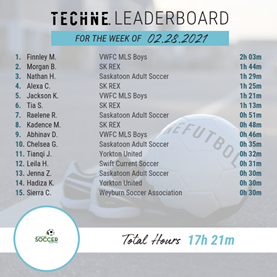 The winner of this week's Techne Futbol Leaderboard draw is Sierra C. from Weyburn Soccer Association! Congratulations to all those that made this week's leaderboard, and to Sierra who won a $50 Xtratime Sports Soccer Locker gift card.
Member Organizations can still opt in, contact
Rahim Mohamed
for details.
---
SSA Calendar of Events & Deadlines
BE SAFE! BE THE SOLUTION!
As a reminder, please continue to take care of yourself, your families, and others.