---

Calling all Saskatchewan FIFA21 players!
Inaugural eNatChamps competition to take place February 20-28, 2021
Canada Soccer has announced the first ever Toyota eNational Championships will begin February 20 with Provincial and Territorial Qualifiers culminating in the Toyota eNational Championships Finals streaming LIVE on Twitch.tv/canadasoccer on February 27-28. Registration for the qualifiers is now open at
www.eNatChamps.gg
to amateur competitors aged 16+ (as of 20 February 2021) using both Xbox and PlayStation consoles on EA Sports' FIFA21. The top Provincial and Territorial Qualifier on each console will qualify to the Finals.
"Given the challenges of the COVID-19 pandemic that disrupted competition at all levels of the sport, including the cancellation of both the 2020 Futsal Canadian Championship, and the 2020 Toyota National Championships, Canada Soccer wanted to provide an opportunity for FIFA21 players to compete for a National Championship," said Peter Montopoli, Canada Soccer General Secretary. "We look forward to growing the opportunities for competitors in domestic and international eSports competition as we work to provide programming for those who love Canadian soccer in all its forms."
Competitors will register and compete on the Battlefy platform in online friendly mode with club teams (no FUT, or international teams) set to 90 overall on their chosen console. Players will compete in a 1v1 single elimination (best of three matches) bracket format to determine the top qualifiers on each console that will advance to the Toyota eNational Championships Final which will consist of a 27 February Xbox Final and a 28 February PlayStation Final. Both Finals will see participants compete in head-to-head matchups in a best of five competition to declare a winner on each platform. Two Toyota eNational Championships Winners will be crowned and receive a Canada Soccer Prize package including a custom Nike Canada Soccer jersey.
"For almost a year now, thousands of Canadians have been eagerly awaiting the return of competitive soccer," said Cyril Dimitris, Vice President, Toyota Canada. "At the same time, more and more Canadian soccer fans are enjoying eSports, so we're excited to harness that passion and competitive spirit on a virtual platform with the launch of Toyota eNational Championships."
Fans can follow the progress of all competitors in the qualifier and final stages of the Toyota eNational Championships online using the #eNatChamps hashtag on Twitter and Instagram or by visiting the competition livestream page at
twitch.tv/canadasoccer
.
For Toyota eNational Championships rules, regulations, and to register, please visit
www.eNatChamps.gg
Canada Soccer Seeks Nominations for its Board of Directors
Canada Soccer has opened a call for nominations ahead of its 2021 Annual Meeting of the Members to fill roles on its Board of Directors beginning in May 2021. The roles are for Vice President-Elect (one year term), two Elected Director positions (BC/Yukon and Quebec - three-year terms), and three Independent Directors (two three-year terms, and one one-year term).
Candidates with expertise in the areas of Corporate Executive, Finance, Enterprise Risk Management, and Business Development are being sought, though all with a strong interest in soccer in Canada should consider submitting.
Futsal Development
Reminder - Intro to Starting a Futsal Program
Member Organizations?and individuals interested in starting futsal and?supporting the?growth of the game in Saskatchewan?are welcome to join us?on?February 11th?at 7:00 PM?for a Member Call?to learn more.
Coaching Applications - 2022 Saskatchewan Winter Games
The application process?for?coaches for?the Saskatchewan Winter Games teams?is now?open.?Coaches?are?required to hold a minimum C-Licence?for the Saskatchewan Winter Games,?however, there is no futsal experience necessary to apply and coaching education will be available leading up to the event.
Deadline to apply is March 15th, 2021.
Futsal Strategy
For up-to-date information on SSA's futsal programs, services, and initiatives,
visit our website
.
---
Match Officials Education

SSA had 20 Instructors and Assessors participate in the SSA Online Refresher Course led by Len Chelack, a Canada Soccer National Instructor. Over the course of 3 sessions (January 7, 14 and 21), the participants engaged in meaningful learning regarding the online delivery of education, as well as topics related to Challenges, Handball, Offside and Tactical Fouls. All participants demonstrated a positive attitude, open mind, and desire to learn that will lead to further favorable outcomes as the year progresses.
Education continued with the SERP (Saskatchewan Elite Referee Program) and Candidates Program who started their yearly education journey online January 28th, 2020. The group and the instructors have discussed relevant topics regarding Referee Physical and Technical maintenance and Tackling the COVID 19 blues. A large portion of the session discussed Mental Health Challenges during the pandemic.
For inquiries about Referee Development opportunities, contact
Octavian Iliuta
.
Coach Education Opportunities
Community Coaching Courses
Registration for our online Community Stream theory modules remain open and are available for coaches to register at any time. These courses are delivered in an asynchronous format, so Coaches can complete the course at their own speed. To register for any of the courses please go to your Member Organization's RAMP registration platform.
C-Licence - Online Theory Workshops
Registration for our current C-Licence theory workshop has now closed. However, registration for our next C-Licence online theory workshop will open March 1st and will have 4 scheduled review sessions.
C-Licence: April 13 to May.25 *(Registration will open March 1st)
1. April 13, 2021 07:00 PM - Welcome and Introduction (Block 1 Review)
2. April 27, 2021 07:00 PM - (Block 2 Review)
3. May 11, 2021 07:00 PM - (Block 3 Review)
4. May 25, 2021 07:00 PM - (Block 4 Review)
---

Concussion Management presented by the Sport Medicine & Science Council of Saskatchewan
Coaches, Parents and Sport Administrators (Feb. 23)
Learn what a concussion is, how to identify it, as well as how to create and implement concussion management protocols and plans. This workshop will be facilitated by certified athletic therapist and sport physiotherapist Rhonda Shishkin. You can
register
for a session from either 12-1 p.m. or 7-8 p.m., but you must pre-register 48 hours in advance.
Athletes (Feb. 24)
Learn what a concussion is, how to identify them, how to manage and prevent them, as well why it is important to report them. This workshop will be facilitated by sport physiotherapist Michelle Keene. You can
register
for a session from either 12-1 p.m. or 7-8 p.m., but you must pre-register 48 hours in advance.
---
SSA Calendar of Events & Deadlines
Recordings of past webinars and COVID 19 member calls can be found on our
YouTube Channel
.
March 20 - SSA Annual General Meeting (Watch for the formal announcement in the coming weeks)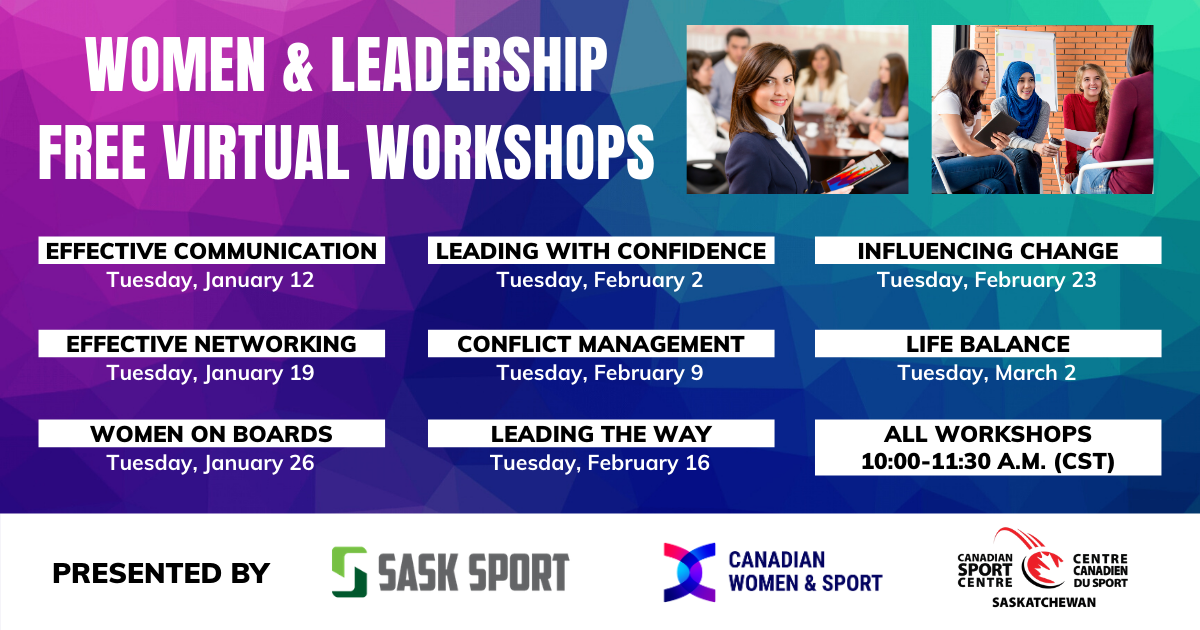 BE SAFE! BE THE SOLUTION!
As a reminder, please continue to take care of yourself, your families, and others.