October 30 - Member Update
---
---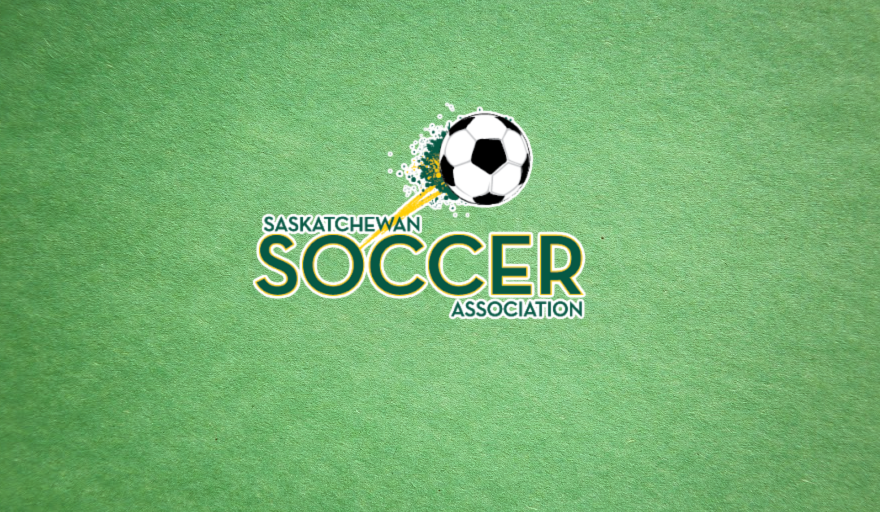 ---
October 30, 2020
To: All SSA Member Organizations
BE SAFE! BE THE SOLUTION!
This week SSA was notified that three individuals involved with Saskatoon Youth Soccer Inc. (SYSI) have tested positive for COVID 19. With the full support of SSA, and based on the guidance from Provincial Health Authorities, SYSI has stopped all play in the affected mini leagues for 14 days.
SSA
continues to support SYSI and commends their organization and staff for their swift and thorough response and for their commitment to privacy.
All parties involved have learned from the experience and have more knowledge to support other Member Organizations that may have a positive case. Furthermore, SSA continues to be in contact with BRT, Sask Sport and Canada Soccer for their continued guidance. On the November 9th Member Discussion call, SYSI and SSA will be providing a debrief of the steps followed and the key learnings that will benefit other Member Organizations going forward.
A Member Organization that is managing a positive case must adhere to strict privacy standards and emergency protocols. While we appreciate the concerns of the participants and parents and their desire for information, a Member Organization should only directly contact any participant and team that may be impacted. A general release may be shared on your website and social media. Under no circumstances should the name of the participant(s) and team(s) be provided publicly. We must ensure we communicate from a participant centered perspective, and that we do not give in to pressure to provide more details than necessary. When communicating with your membership, this message should be conveyed: confidentiality is of utmost importance and the member organization is managing the situation with both urgency and discretion.
It should also be noted that an affected organization is often waiting for direction from Sask Health. During this process we have become aware that Sask Health's primary contact is with the individuals who have tested positive, not the organization that is managing the situation. A Member Organization does not need to hear from Sask Health to take action - if you are notified of a positive case by an individual, all activities within that mini-league should immediately be paused until further direction is received from Health Authorities.
SSA has approached BRT to better understand the flow of information and how Sask Health will interact with member organizations whose participants have tested positive going forward. We will continue to learn and provide updates for managing these scenarios.
On behalf of the Board and Staff, we want to commend SYSI leadership and its members for the professional, prompt and thorough response they have executed.
As always, please continue to be safe and follow the Saskatchewan Health Authority guidelines.
Return to Soccer Resource Updates:
The
FAQ
have been updated to include the following:
Q: Can a referee/coach/volunteer wear a shield rather than a mask to prevent glasses from fogging up?
A: A shield is not a substitution for a mask. BRT has said that when wearing a face shield, there should be a mask under the shield.
A trick to prevent fogging up: when wearing glasses, wrap a tissue below the nasal bridge, right where your mask sits.
Thank you to Saskatoon Adult Soccer for sharing this response with us. If you receive a response from the BRT,
please share with us
, as the information may be beneficial to all members!
Bylaw Consultation
On October 5th, SSA outlined the Bylaw Consultation process for 2020 and requested amendments from Members with an October 26th deadline for initial submissions. None were received.
Each year the Board hosts a bylaw consultation to ensure we can discuss amendments that will be brought forward at the AGM and come to consensus prior to the Dec. 15th final deadline for amendments to be received, as per the requirements of the Non-Profit Act of Saskatchewan 1995.
This year there is one item for consideration from the SSA Board as outlined
here
. We will invite Members to provide final input into the amendment on the November 9
th
Member Discussion.
Member Discussions
FINAL Reminder - MAP Grant
Final Reminder - All member organizations that have been approved for an extension on their follow-ups must have them in by November 1
st
at midnight. Follow-ups submitted after November 1
st
will not be accepted. Please send all forms and information to Nicole at
cms@sasksoccer.com
Indoor Registration Deadlines
The 1st 2020-21 Indoor Submission registration deadline is November 7. The deadline includes all registrations for players, coaches and officials received up to and including October 31 must be submitted.
It is important that you submit the completed Registrar Report and fees no later than November 7. The indoor registration fees and Registrar Reports are available on the
SSA website
. If you have any questions, contact Eden at
registrar@sasksoccer.com
.
November Member Sessions
The first Member Session begins this Sunday with Paul Varian's 'Managing Your Technical Direction'!
Click here
to learn more.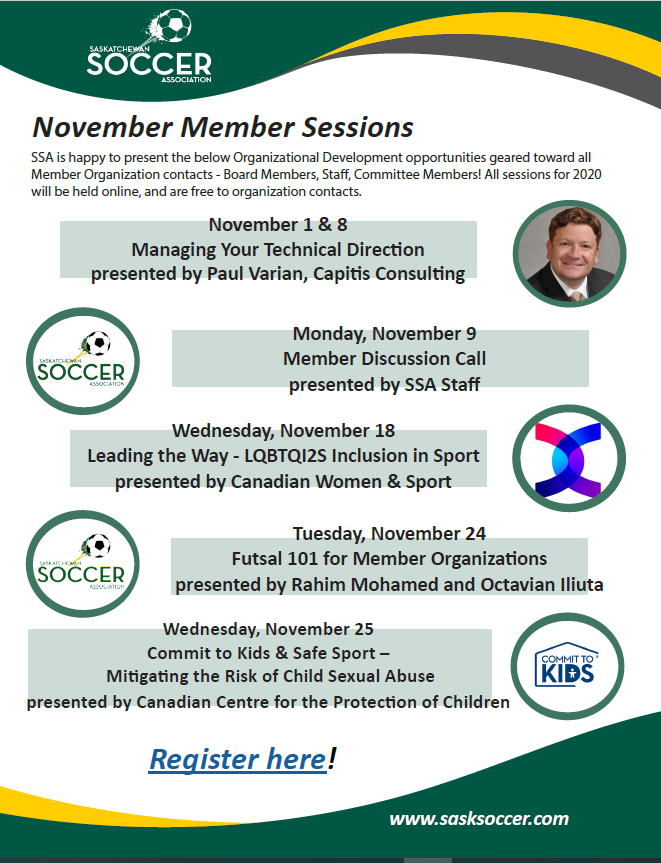 Indoor Provincial Championships
SSA would like to announce the information below regarding the 2021 Indoor Provincial competitions. Be advised, currently the hosting of tournament and championships is prohibited within the Government Guidelines. Should conditions improve and allow for such competitions, the following dates are planned. Also included in the chart are the cancellation dates, by which a decision will be made if the competition is or is not to go forward.
Member Organization will be notified when Entry Forms and Rulebooks come available. If you have any questions, please contact Octavian at
ccd@sasksoccer.com
.
| | | | | | |
| --- | --- | --- | --- | --- | --- |
| Competition | Dates | Location | Entry Deadline | Roster Deadline | Cancellation Date |
| Youth Futsal Provincial Championship | February 5-7, 2021 | Yorkton | December 17, 2020 | January 6, 2020 | December 10, 2020 |
| S4L 6-aside Indoor Youth Provincial Championship | February 19-21, 2021 | Saskatoon | January 14, 2021 | January 28, 2020 | January 7, 2021 |
| Special Olympics Provincial Championships | February 19-21, 2021 | Saskatoon | TBD | TBD | January 7, 2021 |
| Adult Futsal Provincial Championship | February 19-21, 2021 | Saskatoon | January 14, 2021 | January 28, 2020 | January 7, 2021 |
| S4L 9-aside Indoor Youth Provincial Championship | March 5-7, 2021 | Regina | January 14, 2021 | January 28, 2020 | January 7, 2021 |

SSA Calendar of Events & Deadlines
Recordings of past webinars and COVID 19 member calls can be found on our
YouTube Channel
.
November 7
-
Indoor Registrar Report Deadline
. All fees and registrar reports for player/coach/referee registrations received up to and including October 31 must be submitted.
November 1 & 8 - How to Manage Your Technical Direction
November 9 - Member Discussion Call
November 18 - Leading the Way - LQBTQI2S Inclusion in Sport
November 24 - Futsal 101 for Member Organizations
November 25 - Code of Conduct to Protect Children
BE SAFE! BE THE SOLUTION!
As a reminder, please continue to take care of yourself, your families, and others.